Frist person - Guo Yan
In 1985, one of my friends saw a recruitment ad in a newspaper that said Tianjin SOS Children's Village was hiring "mothers".
She teased me: "Why don't you try this, as you never show any interest in the men we introduce you to. You're perfect for the job."
I was 38 and in charge of production scheduling at a glass factory. As one of the millions of educated urban youths, I was sent to work in a rural area for 10 years after graduating from college during the "cultural revolution" (1966-76). After I returned to Tianjin, I started work at the factory for a meager salary.
I saw being single as a good thing. Some of my educated female friends ended up marrying farmers or factory workers, but they had not found happiness.
So I applied for the job to work as an SOS mother. I was among 13 people short-listed from 130 applicants. Although my family and my boss at the factory were furious with my decision, I decided to do it.
For someone who had never married, at the beginning it was a challenge to live with eight children and act as their mother. I burst out crying the first time I was called "mom" because I suddenly realized it was a lifetime commitment.
The Tianjin SOS Children's Village asked us to sign such an agreement, to ensure the children would not experience the tragedy of losing a mother again. (In recent years the policy has been loosened to allow SOS mothers to end their contract if they want to marry.)
You can't imagine how busy life can be when you're a mother to so many children. In 20 years, my life was filled with shopping for food and clothes, and attending parents' meeting at schools.
Some children develop bad habits before arriving at SOS villages, such as stealing. I always told myself not to scold them or humiliate them, but instead help them to change.
I was called to school once where a teacher told me my "son" had stolen 10 yuan ($1.60) from a classmate. I took my child to the other student's home and I apologized to his parents for my child's indiscipline. After that, my son said he appreciated what I'd done for him and promised he would never steal again.
I feel happy to have spent my life raising 17 children. Most of them come back to see me during holidays or festivals, even after they have gotten married and had children of their own.
Guo Yan was talking to China Daily reporter He Dan.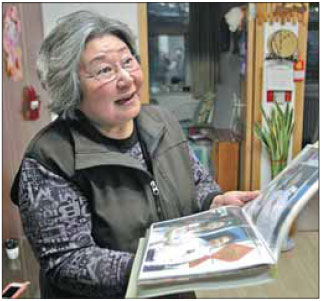 Guo Yan, a retired "mother" from Tianjin SOS Children's Village, shows wedding photos of orphans she has taken care of. She raised 17 children between 1985 and 2004. Zou Hong / China Daily
(China Daily 01/02/2014 page3)