Beijing Jingshan School has developed a system of long-distance, computer-based learning to provide education to its students during periods of heavy air pollution, when schools may be forced to close.
Qiu Yue, vice-principal of the school, said work on the long-distance learning system began after the Beijing municipal government issued contingency plans for days of severe air pollution on Oct 22.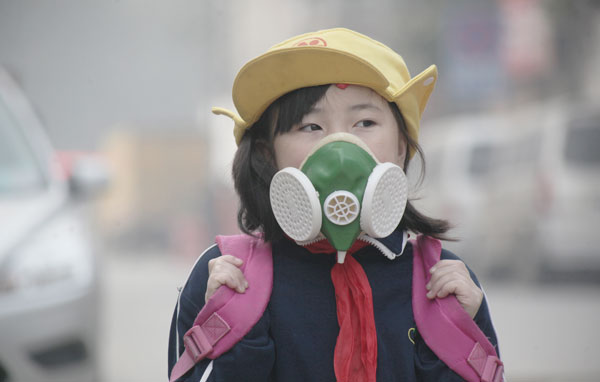 A pupil goes to school wearing a mask in Jinan, East China's Shandong province, Oct 29. [Photo by Zheng Tao/Asianewsphoto] 
According to the government plan, on days when official warnings predict air pollution to be Level 1, the highest level on the scale, schools should suspend classes but ensure that students can keep learning at home.
"We experienced class suspensions of more than a month in 2003 due to the SARS outbreak," Qiu said. "We were quite unprepared and simply stopped all the teaching activities for more than two weeks. We want to get ourselves prepared this time."
The school now has more than 3,000 students, ranging from elementary school to middle school and senior high.
Yu Feng, chief of the school's information center, is responsible for the distance-learning system. He said the system is based on the "education function" of Tencent's QQ group chat software.
"Students in each class already have a QQ chat group," Yu said. "What they need to do is to upgrade the QQ software on their computer to the newest version, where they can use the education function for QQ group chat."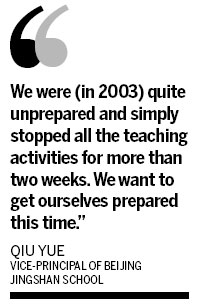 The school put the system to the test on Saturday, with 15 teachers and 400 students from primary school and middle school taking part in a trial run.
Clicking the "video" button on the dialog box, a live image of their teacher appears on their screens, as captured through the teacher's video camera. Class interaction mostly comes from typing through the dialogue box, as many students haven't yet bought a microphone for the video class.
The education function also allows teachers to display teaching resources to the class, such as presentations created in PowerPoint software.
So far, the new system has not incurred any additional costs on either side, Yu said.
He Bing, a 34-year-old biology teacher at senior high school level, gave an online lesson to a class of 35 students on Saturday, the first time he had taken part in such a system.
There were no major differences in presenting the class, He said, although many students were more positive in asking questions via the online platform than they would have been in a real classroom.
"It was a bit of funny to see my teacher through the camera, though. He obviously goes faster in teaching when it comes to video teaching," said Lu Zihang, a 17-year-old student at the school.
"Maybe it's because he couldn't get a full impression of our reactions. I hope the teacher will slow down a bit if we learn new lessons this way."
Vice-Principal Qiu said teachers cannot have full control of their class during the long-distance classes. In a class of 40 students, the teacher can only see three of them at the same time on the screen.
"This is more like a kind of service that the school provides to the students," Qiu said. "We give students a platform for them to keep learning at home, but at the moment, we do not force them to take the classes. If some students prefer to take a rest on smoggy days, it's fine."
On Dec 5, Nanjing, capital of Jiangsu province, was hit by heavy smoggy weather, with authorities declaring the highest level of air pollution. All primary and middles schools were forced to suspend classes for four days, according to the city's education department.
Though no Level 1 air pollution warnings were been issued in Beijing during 2013, Qiu said the system could be put to use in a range of different circumstances that prevent students from traveling to school.
Chu Zhaohui, a senior researcher at the National Institute of Education, said that the idea of online classes with video links is a good one, but not very applicable on a large scale.
"Beijing Jingshan School has a long history and very good reputation in basic education, and most students started to use computers at a young age," he said. "But this is not the case for every school. Not every student owns a computer at home, and computer skill varies largely among students."
He also says the system may cause more problems for elementary students in first and second grades because staring at a computer screen continually for 40 minutes may harm their eyesight.
Zhang Min, a 39-year-old mother in Beijing, said that she would prefer her 12-year-old daughter take a rest on smoggy days.
"I don't think this way of teaching and learning can be as efficient as a real classroom because the teachers can't really get a good grasp of students reactions," she said. "Plus, heavily polluted days don't last long. I would prefer my daughter to take a break for two or three days if the terrible weather really arrives."
zhangyue@chinadaily.com.cn
(China Daily 01/02/2014 page5)