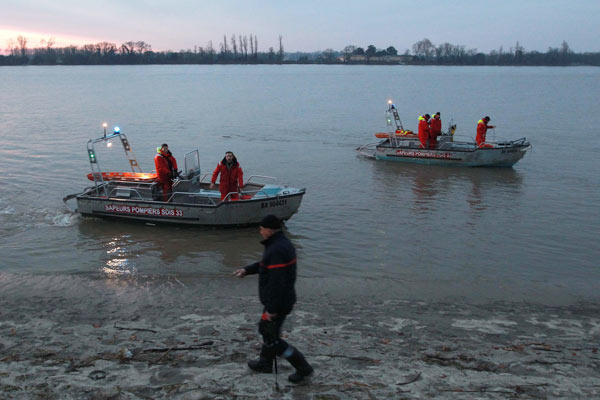 Rescuers work to search for missing people after a helicopter with helicopter with Lam Kok (owner of Hong Kong-based hotel group Brilliant) onbaord crashed in Dordogne River of France on Saturday. [Photo/Xinhua] 

BORDEAUX, France - A Chinese hotel magnate and a French wine entrepreneur were feared dead with two others on Saturday after their helicopter crashed hours after they had agreed the sale of a luxury Bordeaux chateau, police said.
Lam Kok, owner of Hong Kong-based hotel group Brilliant, bought the 60-hectare (148-acre) Chateau de La Riviere on Friday from former owner James Gregoire, who then took Kok, his 12-year-old son and a Chinese interpreter on a helicopter tour of the property.

The body of Kok's son was found late Friday in the wreckage of the helicopter which crashed in the river Dordogne in Gironde, while a Chinese interpreter was still missing.
Local emergency services said the helicopter crashed in the local river Dordogne by the town of Lugon-et-l'ile-du-Carnay. One unidentified body was recovered late on Friday and police said more searches were being launched on Saturday.
Chinese entrepreneurs have snapped up several dozen French chateaux, most of them in Bordeaux. The new owners have either shipped the output back to China to satisfy a growing local taste for wine, or turned them into tourist resorts.