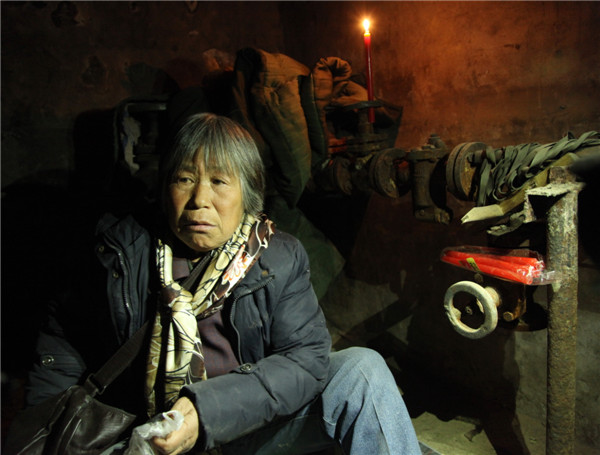 Garbage collector Quan Youzhi, 66, from Henan province, has been living inside an underground utility compartment outside Lidu Park in Beijing's Chaoyang district. [Photo by Cheng Liang/Asianewsphoto]
Every day for the past 20 years, Quan Youzhi, 66, has lifted a well lid weighing at least 10 kilograms and climbed down 3 meters to spend the night underground.
The woman from Shangqiu, Henan province, does not work on underground facilities. Instead, she calls the deserted underground compartment home.
The compartment is near Lido Park in Beijing's Chaoyang district.
It measures 3 meters by 3 meters and is about 2 meters high. It is filled with rusty pipes that crowd the already small space.
Inside are simple furnishings: a few quilts on a thin mat, some candles, two coats and a broken umbrella.
A washroom in Lido Park offers Quan a place to wash herself and to use the toilet.
"Twenty years," Quan answered when asked the obvious question. "I don't have money".
The space is a good place to live in winter, she said because it's warm.
In the summer, however, she stays aboveground because it gets too hot. During heavy rain, Quan moves to a nearby pavilion because her home will be flooded.
Quan said chengguan, urban patrol officers, frequently block off access to her home by welding the lid shut.
"I bought a metal saw and sawed the weld off after they went away," she said.
"I don't want to go back home," Quan said. She has two sons, one in his 40s and single, the other married with two children and in his 30s.
The house she had inhabited in her hometown collapsed, Quan said, adding that her biggest wish is to get enough money to rebuild it.
But Quan makes only about 20 yuan ($3.3) per day collecting bottles. "One hundred bottles can be sold for eight yuan," she said.
"I buy food, which is usually steamed bread, and medicine. So I can save very little," she said that she has high blood pressure and gallstones.
She was once taken to a rescue center but left after only a few days.
Quan's husband, Liu Wancang, 68, lives in a similar compartment nearby, but they seldom communicate.
"He often quarrels with me," Quan said.
On Friday the underground utility compartments were blocked with cement by the local Jiangtai community authority.
Ge Daoshun, a researcher of social policy at the Chinese Academy of Social Sciences, said it's right for the local government to block those compartments because of the potential safety hazard.
But homeless people such as Quan, who chose to live this way, will only find other similar places to stay, Ge said.
Chen Tao, a professor at China Youth University for Political Sciences, said it's hard for old people with children to get help from the social assistance system because their families are supposed to support them.
Adults who are capable of supporting their parents are obliged by China's Constitution to do so.
But many people like Quan don't get help from families, Chen explained.
Chen said that a professional social worker team should be created to evaluate whether older people need social assistance, instead of only taking into account whether they have relatives.