Carrefour SA, the world's second-largest retailer in terms of revenue, plans to open 20 new hypermarkets annually and establish a presence in 30 new cities in China in the next three years.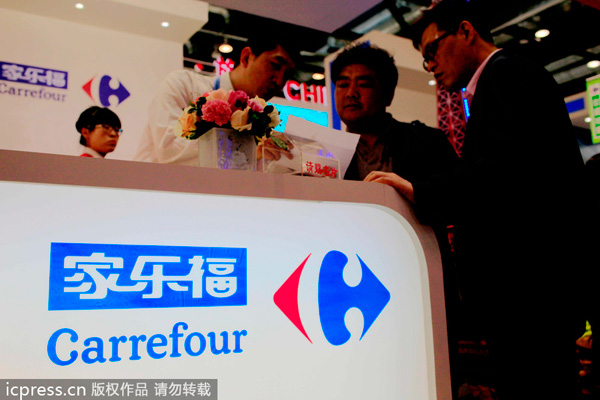 Visitors talk at Carrefour's booth at the 2013 China Beijing International Fair for Trade in Services, May 29, 2013. [Photo/icpress.cn]
Thierry Garnier, president and CEO of Carrefour China, announced on Thursday in Beijing that the group is expected to open more stores to expand their presence to a total of 100 cities, with most of new stores opened in third- and fourth-tier cities during this timeframe. Carrefour now has 236 stores in 73 cities.
The French retailer has seen its third quarter sales go up by 4.7 percent in China. Its global sales growth in the third quarter increased 2.7 percent year-on-year.
Foreign retailers have met bottlenecks after high-speed expansion in China in the past years.
The world's largest retailer by sales, Wal-Mart Stores Inc, said it will shut 15 to 30  outlets in the next 18 months. It  said the closures will represent about 9 percent of the total store portfolio and 2 to 3 percent of sales volume through next year.
United Kingdom-based Tesco Plc announced to form a joint venture with China Resources Enterprise, which operates Vanguard stores.