Beijing and Washington need to respect each other's core interests and major concerns, Vice-President Li Yuanchao said on Wednesday during a meeting with his US counterpart Joe Biden.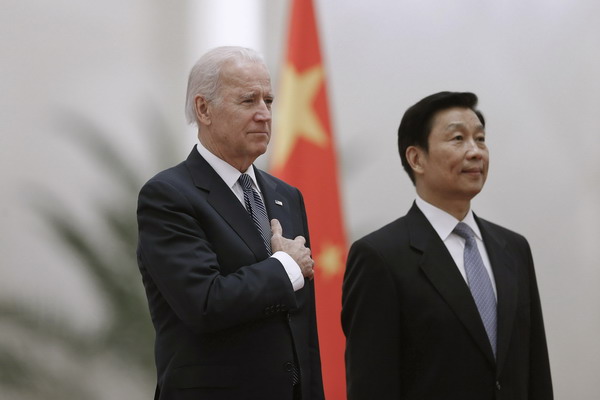 Chinese Vice President Li Yuanchao (R) and U.S. Vice President Joe Biden (L) listen to their national anthems during a welcoming ceremony inside the Great Hall of the People in Beijing December 4, 2013. [Photo/Agencies]
Calling Sino-US ties the most important bilateral relations in the contemporary world, Li said keeping peace, friendship and reciprocal cooperation will benefit people in both countries.
Biden said one thing that has not changed in the more than 30 years since his first trip to Beijing is his conviction that the relationship between China and the United States will mature and become the center of the international relationship for a long time.
In June, President Xi Jinping and US President Barack Obama agreed to pursue a new type of big-country relationship during their meeting in Sunnylands, California.
China would like to strengthen high-level strategic communication with the United States, respect each other's core interests and major concerns and deepen substantial cooperation in all areas and enhance coordination on bilateral, regional and global spheres, said Li.
"China is ready to translate the spirit of non-conflict, non-confrontation, mutual respect and win-win cooperation to every aspect of the China-US relationship," Li said.
Biden said that the new model of the great power relationship requires the two countries to expand practical cooperation and deliver results.
Li said that China and the US should handle divergences properly and promote pragmatic cooperation.
Biden arrived in Beijing on Wednesday for a two-day official visit to China. This is his second trip since he took office in 2009.