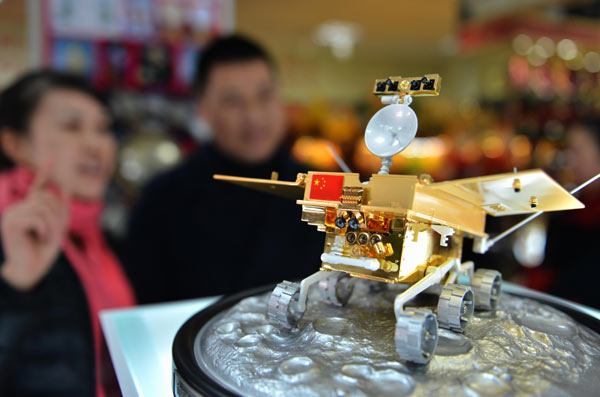 A simultation model of China's first moon rover - "Jade Rabiit" - is displayed at a market in Yiwu city, East China's Zhejiang province on Dec 3, 2013. [Photo by Lv Bin/Asianewsphoto] 
BEIJING - Simulation models of China's first moon rover, "Jade Rabbit," were put on the market Wednesday to commemorate the successful launch of the Chang'e-3 lunar probe.
Manufacturing of the models, with one made of zinc alloy and the other made of silver, were supervised by the cultural exchange association for national defense science, technology and industry.
China launched the Chang'e-3 lunar probe early on Monday, marking a significant step toward deep space exploration.
Chang'e-3, which includes a lander and a moon rover called "Yutu," or "Jade Rabbit," is expected to land on the moon in mid-December, and will be China's first spacecraft to soft-land on the surface of an extraterrestrial body.