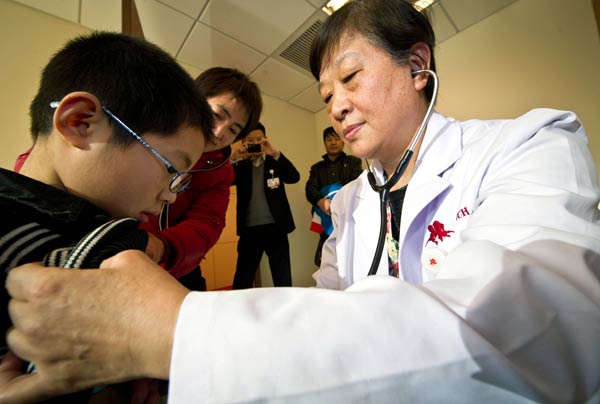 A doctor treats a boy at Tianjin New Century Children's Hospital in Tianjin. The hospital, which opened last year, is the first private hospital for children in the city. Yue Yuewei / Xinhua
The Party's decision to increase support for private hospitals presents an opportunity but with challenges, experts say, starting with access to insurance money and limits on doctors' working hours.
The broad policy approved by the Third Plenary Session of the Communist Party of China's 18th Central Committee, which ended on Nov 12, states the government should encourage the growth of medical institutions run by private companies or other NGOs.
Private hospitals are thought to be capable of competing with government-funded hospitals by providing more choices to patients. They can also help relieve pressure on an overburdened government system.
Since 2009, when national health reforms began, the central government and authorities in cities such as Guangzhou and Beijing have called for equal treatment for private hospitals — and even favorable policies that will stimulate their growth.
"The latest decision reiterates and emphasizes this," said Zhu Hengpeng, a researcher with the Chinese Academy of Social Sciences' Institute of Economics.
He said the Party's decision shows the willingness to conduct market-oriented reform in a health sector dominated by government-funded hospitals.
The Party also said private hospitals should get a slice of public healthcare insurance money, just as government-funded hospitals do.
But a majority of private hospitals operate outside the insurance program, which means their service costs are higher than their government-funded counterparts, Zhu said.
"Insurance managers are concerned there won't be enough money if more hospitals are included in the program," he said.
Mao Tongfa, president of Rensheng Hospital, a private hospital in suburban Beijing, said his hospital sees fewer than 30 patients a day, partly because customers cannot get reimbursement for treatment expenses.
"The policies are good, but it will take much time to put them into practice," he said. "Many customers have complained they can't be reimbursed after being treated in this hospital."
But that's just one of the difficulties. The medical talent pool in private hospitals is another.
The government has said top doctors should be allowed to work in more than one place — in private hospitals, or even in community healthcare centers, in addition to their public-hospital service — but there are barriers.
For instance, doctors in China's government-funded system are classed as full-time workers. As such, they are seldom allowed to double-up, said Xie Qilin, deputy secretary-general of the nonprofit Chinese Medical Doctor Association.
Xie said a doctor could try negotiating a contract laying out specifics such as length of the workweek, compensation or other things that might make it easier to accept work at multiple venues, but most employers will be reluctant to go along.
Few doctors in government-funded hospitals practice elsewhere, because their benefits and career opportunities are better where they are, said Liu Guo'en, a professor of economics at Peking University.
"Doctors in government-funded hospitals often enjoy higher pensions than their counterparts in private hospitals. Also, public hospitals control most of the academic and research resources," he said.
According to Xie, very few registered doctors in Beijing have applied to work parttime. As a result, people swarm the hospitals where the highest quality treatment is offered for the lowest price after insurance reimbursement.