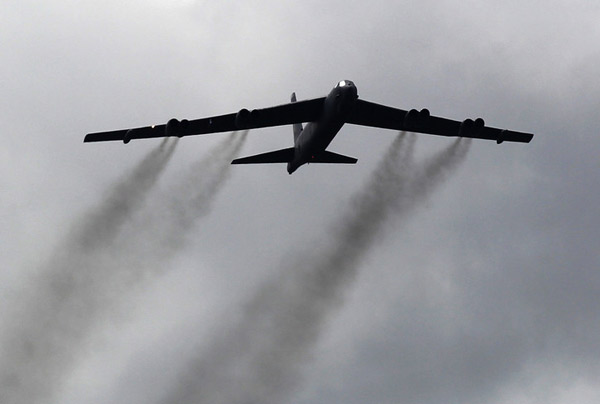 A B-52 bomber flies past the airfield during the Farnborough International Airshow, Farnborough, England, July 10, 2012. [Photo/Icpress.cn]
BEIJING - China's Defense Ministry said on Wednesday it had monitored the entire progress of two unarmed US B-52 bombers that flew over disputed islands in the East China Sea on a training mission  without informing Beijing.
"The Chinese air force monitored the entire course and identified (them) in a timely way, ascertaining that they were US aircraft," the ministry said in a statement on its website.
"The Chinese side has the ability to effectively manage and control the relevant airspace," it added.
Special: China's air defense zone triggers mixed response
US, Japan wrong to blame China for air zone
Air defense identification zone a strategic decision: experts