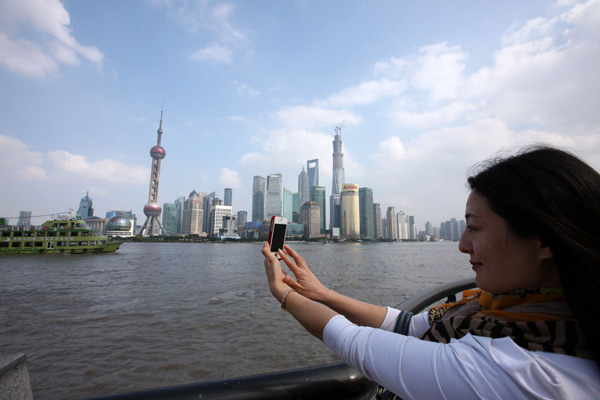 A tourist enjoys the view at the Bund in Shanghai on Nov 4 under clear skies. On Wednesday, city legislators discussed a draft regulation to curb concentrations of PM2.5 air pollution by 20 percent within five years.[Hu Weiguo / for China Daily]
For the first time in China, the prevention and control of volatile compounds that make up PM2.5, such as carbon dioxide, have been written into a draft regulation.
A draft of a Shanghai measure to curb air pollution was discussed at a meeting of the Standing Committee of Shanghai People's Congress on Wednesday. Chinese media reports said it's the first time a draft has focused on eliminating the organic compounds that form PM 2.5, the harmful fine particulate matter that is 2.5 microns in diameter or less.
The Shanghai Environmental Protection Bureau said PM2.5 is the main pollutant on nearly 95 percent of the days on which substandard air quality is recorded in the city.
"Contamination always decides air quality," said Zhang Quan, director of the bureau.
Over the past four years in Shanghai, 80 percent of that time span had standard air quality. The city considers air pollution index levels of 100 or below as standard, while any levels above 100 are considered hazardous.
Among 74 cities monitored nationwide, standard air quality was seen 48 percent of the time over the past four years.
Shanghai aims to reduce the concentration of PM2.5 by 20 percent in five years from 2012 base levels, a main goal in the Shanghai Clean Air Action Plan (2013-17) unveiled last month.
The draft expanded punishments for environmental protection violations, especially for restaurants that produce lampblack soot, the fine soot created by cooking oil.
For any enterprise that causes an incident in which there are high amounts of pollution, the person in charge will be fined between 5,000 yuan ($815) and 100,000 yuan in addition to penalties for the business, according to the draft.
The supply of water, power and gas will be suspended for those enterprises that refuse to pay the fines.
Some experts said the details in the legislation must be more explicit to ensure the law is effectively enforced.
"Traffic police should be authorized to stop vehicles emitting black exhaust in the street," said Shen Zhixian, director of the committee for internal and judicial affairs of the Shanghai standing committee.
"It should be clarified how police will treat such vehicles and punish the drivers and cooperate with the environmental protection department," he said.