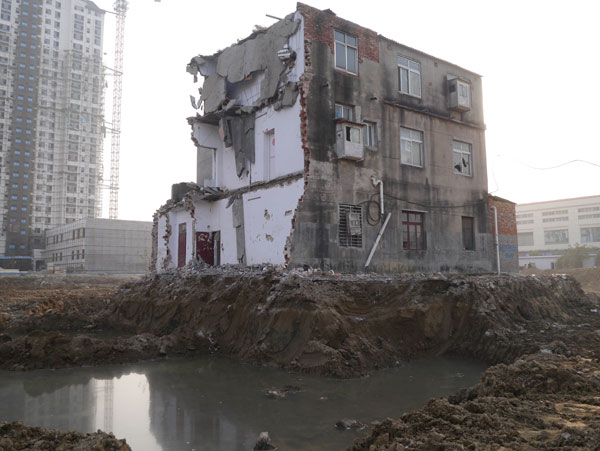 Property developers have dug a 3-meter-wide "moat" around the home of a family after they refused to move to make way for a new housing project in Xiangyang, Hubei province. Li Fuhua / For China Daily
Property developers have dug a 3-meter-wide moat around the home of a family in Hubei province after they refused to make way for a real estate project.
Fu Lianfa's house is one of only a few still standing after bulldozers began work on the Shanshui Jiayuan project in Xiangyang.
Images of the property surrounded by a ditch and construction workers have been widely circulated online.
As of Thursday, Fu, his wife and son were holed up in the house, with netizens dubbing them dingzihu, or nailhouse tenants, a term used to describe people who hold out against developers.
Zeng, a spokesman for Xiangyang government who gave only his surname, said the project is a major part of the city's renovation plan for urban villages.
Ninety-five percent of the old buildings have been demolished, and residents have been promised property in the same area after construction by the State-owned Xiangyang Xiyuan Co is finished, he said.
Beef trader Fu refused to move after the government disputed his compensation claim for 400 square meters.
Yang Taifu, head of Tanxihu community, said a 2002 survey showed the family deserved only 217 sq m, and the remainder of their building was constructed illegally.
Fu's wife, Wang Yuhui, denied that accusation on Thursday.
Work is continuing on Shanshui Jiayuan because the government has pledged to rehouse 1,000 families in 18 months, Yang said.
The city government said water and electricity supplies to Fu's house have not been cut off, and demolition will not take place until compensation has been agreed to by both sides.
Cases of dingzihu have become common in China in recent years.
Among the most talked about was that of martial arts champion Yang Wu and his restaurateur wife, Wu Ping.
The Chongqing couple faced down bulldozers in 2007, all the while flying the Chinese flag from their roof, even after developers cut their power and water supplies and dug a 10-meter-deep ditch around their property.
The standoff lasted three years before a settlement was reached.