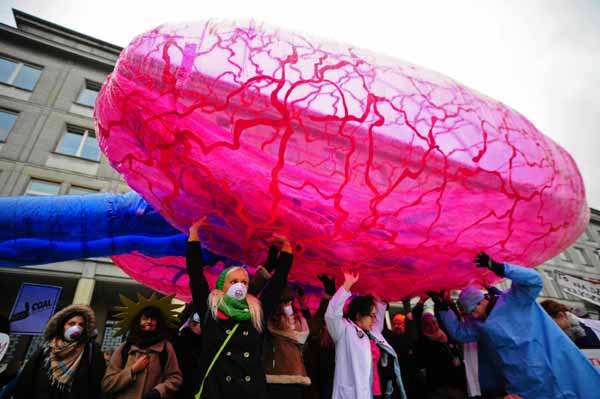 Greenpeace activists protest in front of the Polish Economy Ministry headquarters building against the World Coal Summit and the 19th conference of the United Nations Framework Convention on Climate Change (COP19) in Warsaw November 18, 2013.  [Photo/Agencies]
WARSAW - Head of the Chinese delegation to the United Nations climate change conference on Wednesday urged developed countries to fulfill their funding pledges for fighting climate change.
"Funding is the key for the success of the Warsaw conference," Xie Zhenhua, who is also deputy head of China's National Development and Reform Commission, told the conference.
In his speech, Xie was referring to the much-anticipated Green Climate Fund (GCF), which was agreed upon at the UN climate talks in Cancun in 2010.
Under the deal, developed countries should provide 100 billion US dollars each year to poorer countries by 2020 to help them cope with carbon emissions and adapt to climate change. However, the promise has been largely unfulfilled.
"Funding is the foundation and precondition for developing countries' actions of mitigation, adaptation, loss and damage, technology development and transfer, capacity building and transparency," said Xie.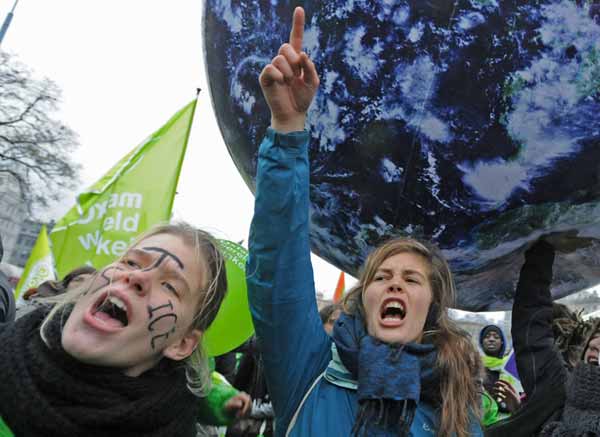 Climate activists shout slogans during a march to campaign against global warming in downtown Warsaw, Poland, Saturday, Nov. 16, 2013. The demonstration coincides with a two-week United Nations conference that is to prepare groundwork for a new climate deal expected in 2015. [Photo/icpress.cn]
"Without fulfillment of funding pledges, the multilateral mechanism will be challenged by severe crisis of trust," he warned, calling upon developed countries to fulfill all the funding commitments they have made in previous climate change meetings.
"In particular, they should make sure that the fund they provide from 2013 to 2015 should be no less than the fast-start fund," and "develop a clear roadmap for providing 100 billion US dollars each year by 2020," Xie said.
The developed countries should also "capitalize the GCF with public fund as the major source as soon as possible, so as to make sure there will be no gap in funding after 2013 and beyond," he added.