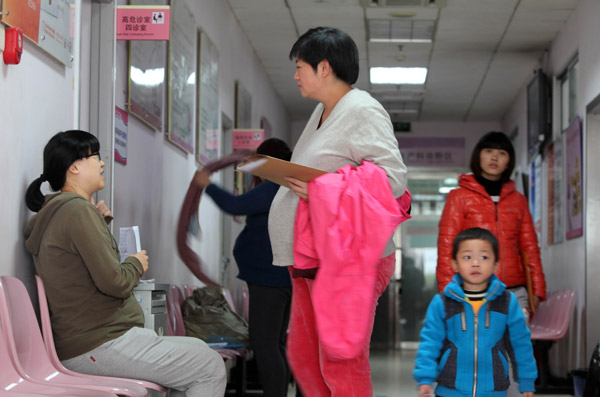 Pregnant women wait to see a doctor at the Beijing Obstetrics and Gynecology Hospital on Sunday. Zhang Yujun / For China Daily
Young parents are making hard decisions about whether to give birth to another child, after the Party said couples can have two if either the husband or the wife is an only child.
Thirty-year-old Wang Xiaoyu of Beijing, an only-child herself, said her husband is OK with having just one. "My husband has a sister. He doesn't want another child because taking care of two children would be too exhausting," she said.
Wang said both she and her husband have jobs in the financial sector and don't have enough time for their daughter as it is.
As a result, the couple's parents take turns looking after the child, with each side spending two or three months with her before burning out.
The financial burden is another factor.
"We are paying 13,000 yuan ($2,130) each month for our apartment and car, and our financial status is not as good as before I gave birth," Wang said.
"Also, there are not yet specific regulations on how to implement this policy. I wonder if I will be able to get maternity leave and a subsidy when I give birth to another child as I did when I gave birth to the first."
By contrast, a 29-year-old construction designer who is working in Shenzhen, Guangdong province, said he talked with his wife and decided they will have another child as soon as specific regulations are clarified. He wanted to be identified only as Zhang.
He and his wife, both working in Shenzhen, earn a little more than 10,000 yuan a month, of which 4,000 yuan goes to pay the mortgage on an apartment they bought in their hometown in Jiangxi province.
"We barely have any money left at the end of the month," Zhang said.
Their daughter, born in 2009, lives with her grandparents in Jiangxi.
"My wife has to work to make ends meet. We are too busy to look after her. Our parents live in rural Jiangxi and don't have pensions, and we can't afford to have them come over and live with us," Zhang said.
Yet the money problem doesn't seem big enough to say no to a second child.
"I think it's best if I have both a girl and a boy. My grandparents and parents got by giving birth to quite a few children, and so can I," he said.
Shi Xiaoxi, a 26-year-old civil servant in Dezhou, Shandong province, believes otherwise. She is the mother of a 9-month-old boy.
"Maybe it wasn't a problem for our grandparents to have a lot of children, but times have changed, and the gap between rich and poor is getting too wide," she said.
"We don't have a problem with simply raising another child. But we won't have enough money to offer him quality education. I think there will be a baby boom under the new policy, and I'm concerned my children won't be as competitive as others 20 years from now."
But Shi said she is torn.
"I have a younger brother, and I can often have a talk with him when I have a problem, and that's something an only-child doesn't have. Having siblings will also make it easier for someone to take care of their aged parents," she said.