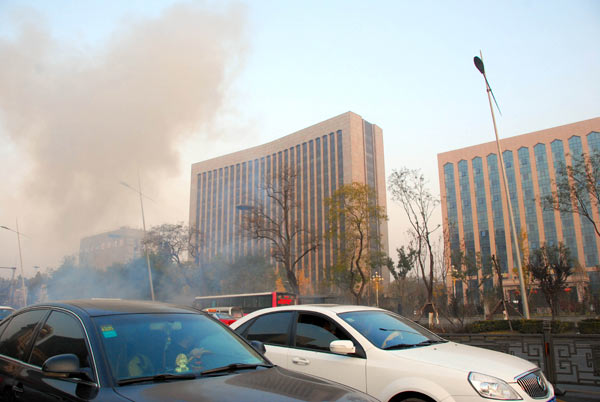 Smoke rises near the office building of the Shanxi provincial Party committee in Taiyuan on Wednesday. Police are investigating the bomb blasts that killed one and injured eight. Liu Guoliang / Xinhua
BEIJING - A 41-year-old ex-convict has been detained by police over explosions that killed one person and injured another eight in North China's Shanxi province earlier this week, police said on Friday.
The suspect, Feng Zhijun, is a local resident of the provincial capital of Taiyuan. He admitted to the crime after his capture at 2 a.m. on Friday, according to the Public Security Department of Shanxi.
The explosions occurred on Wednesday morning in front of the office building of the Shanxi Provincial Committee of the Communist Party of China in Taiyuan. Among the eight injured, one was seriously wounded.
Police found self-made bombs in Feng's residence and seized the vehicle which they believe he was using at the time of the explosions.
Feng has previously served nine years in prison for theft, police said.
They are continuing investigation into the case.