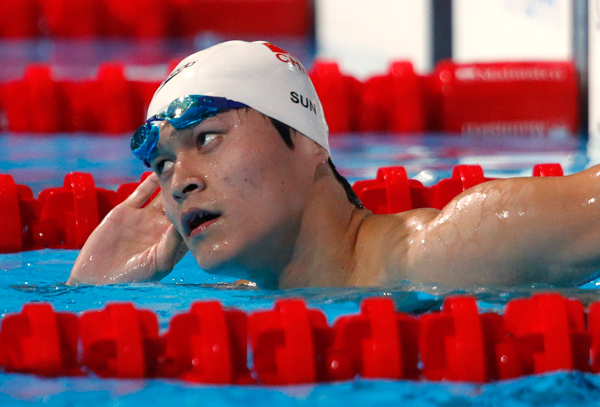 Sun Yang reacts after the men's 1500m freestyle heats during the World Swimming Championships at the Sant Jordi arena in Barcelona in this August 3, 2013 file photo. [Photo/Agencies]
HANGZHOU, Southeast China - China's Olympic and world swimming champion Sun Yang has received an indefinite ban from competition following his seven-day detention for driving without a license.
In the latest negative incident, the double Olympic champion was found driving without a license when Hangzhou police dealt with a car accident in which Sun's car was hit from behind by a bus on Sunday afternoon.
On Monday, Sun was fined for 2,000 yuan (about $328) and given a seven-day detention for breaking the law.
Meanwhile, the Zhejiang College of Sports, to which the first Chinese male Olympic swimming champion is affiliated, suspended Sun from competition.
"First of all, he should thoroughly reflect of what he has done. Then he will have to resume systematic training. Only after a long period of training during which he can abide by the rules, can we consider to reinstate him," said Zhang Yadong, vice president of the college.
Zhang compared Sun's punishment to that of winter Olympic titlist Wang Meng, who was banned for 400 days for hitting a team official.
"The punishment is severe but we are doing this for his own good," added Zhang. "We hope he can always be the hero of Chinese sports instead of a sinner."
Sun, turning 22 next month, has kept hitting negative headline coverage since his coming back from London where he triumphed in the 1,500- and 400-meter freestyle last year.
Sun was previously embroiled in controversy after his long-time coach Zhu Zhigen told him to stop his relationship with a stewardess. The two fell out over the issue, and Sun was accused of lacking respect for his mentor.