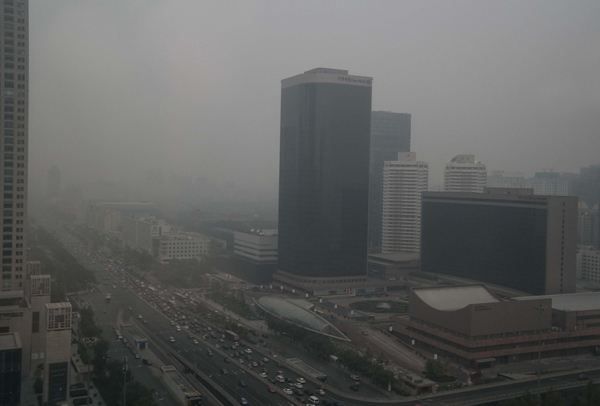 Heavy smog shrouds Beijing in Nov 1, 2013. [Photo/Xinhua]
BEIJING - The 31 provincial-level regions on China's mainland have reported 4.7 smoggy days on average so far this year, the highest number since 1961, a meteorologist with the China Meteorological Administration (CMA) said on Friday.
Chen Zhenlin, head of the Department of Emergency Response, Disaster Mitigation and Public Services under the CMA, told reporters that the number was 2.3 days higher than that of the same period in ordinary years.
Of the 31 regions, Heilongjiang and Liaoning in northeast China, Hebei, Shandong, Shanxi, Tianjin, Henan in north China, Anhui, Hunan, Hubei, Zhejiang and Jiangsu in south China, as well as Chongqing in southwest China had reported the highest number of smoggy days in their history.
In October, central and eastern Chinese regions were frequently shrouded in smog. Ten to 15 smoggy days were recorded by some regions, including Beijing, Tianjin, Shanxi, Henan, Jiangsu, Zhejiang, Anhui, Hubei, Sichuan, Hunan and Guangdong. Some areas in Shanxi, Henan and Jiangsu reported a total of 15 to 20 smoggy days last month.
Chen said central and eastern China would still be plagued by smog in November.
Dense smog has periodically shrouded major cities in north and northeast China in recent years, raising increasing public discontent.
A national action plan to combat airborne pollution was unveiled on September 12 this year. It set various targets, for instance requiring all 338 prefecture-level cities to start monitoring six airborne pollutants, including PM2.5, and to release the readings by the end of 2015.
PM2.5 refers to airborne particles measuring less than 2.5 microns in diameter.
The Chinese capital Beijing, which witnessed frequent prolonged smog last winter, adopted an emergency program to handle air pollution on October 22.
Cars with odd and even license plates will be allowed on roads on alternating days and schools will close when a red air pollution alert -- the highest -- is issued. Meanwhile, 30 percent of the city government cars will be banned from streets on an odd-even alternating basis.