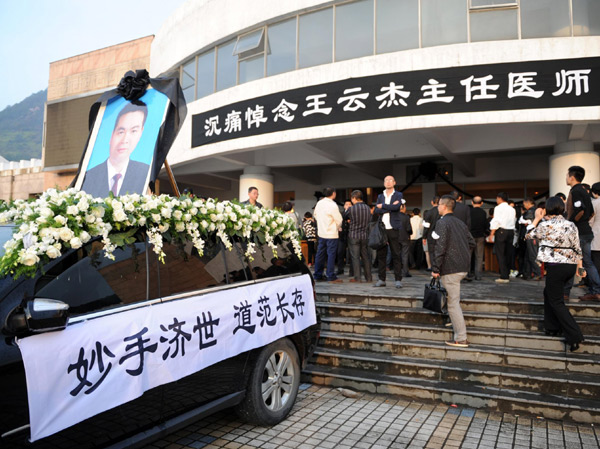 A memorial service is held to mourn for Wang Yunjie, an ear, nose and throat physician, in Wenling, Zhejiang province, Oct 31. Wang was killed on Oct 25 by a patient who was unsatisfied with the surgery he had in the hospital.[Photo/Xinhua]
China's Ministry of Public Security has promised a zero tolerance approach to violence and other crimes targeted at medical staff.
A ministry circular on Thursday said police will help hospitals resolve disputes between doctors and patients and improve security in hospitals, after a number of violent episodes between doctors and patients in the past few months, some of which led to the death of medical staff.
On Oct 25, a doctor was killed and two others injured by a dissatisfied patient at a hospital in East China's Zhejiang province.
According to a sample survey by the Chinese Hospital Association from December 2012 to July 2013, violence against medical staff is on the rise. The annual average number of assaults on doctors per hospital increased from 20.6 in 2008 to 27.3 in 2012, according to the survey, which polled staff and patients at 316 hospitals.
Unsatisfactory treatment, poor communication between patients and doctors, distorted media reports and high medical costs were blamed for most of the assaults, while social conflict, loss of trust and unbalanced demand and supply of medical resources underlie the rise in violence, according to the survey.