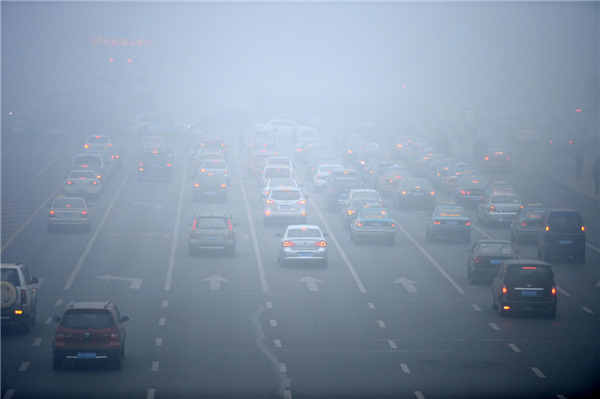 Vehicles drive on a smoggy day in Harbin, Northeast China's Heilongjiang province, Oct 22, 2013. [Photo/Xinhua]
BEIJING - Seventy of the 74 monitored Chinese cities nationwide suffered from air pollution in the third quarter of this year, the environmental watchdog announced on Tuesday.
Fifteen cities had less than 50 percent of the 92 days in the third quarter failing to meet the required standards set by the Ministry of Environmental Protection, according to the ministry.
The ten cities with the most serious problems are Xingtai, Shijiazhuang, Tangshan, Handan, Jinan, Hengshui, Tianjin, Baoding, Zhengzhou and Langfang, most of them in the hinterland of the national capital, Beijing.
Air pollution in Beijing and neighboring Tianjin and Hebei was worse than other parts of the country during the three months.
The 13 monitored cities in the region had on average 62.5 percent, or about 58 days, failing to meet the required standards, while the national average stood at around 29 days.
Air quality in all 74 cities met the standard in 68.9 percent, or on 63 days, up 6.4 percentage points from the previous quarter. O3 and PM2.5 - airborne particles less than 2.5 microns diameter - are the major pollutants in the region, according to the report.
East China's Yangtze River Delta and South China's Pearl River Delta had more clear days than other parts of the country with 73.5 percent and 77.6 percent meeting the standard respectively.
Pressure is growing to address the causes of air pollution after heavy smog smothered large swathes of the country early this year. A government action plan unveiled last month showed China taking a multipronged approach to the issue by cutting coal use, shutting down polluters and promoting cleaner production. This should mean PM2.5 falling by about 25 percent from 2012 levels in Beijing and environs by 2017.
China had about 500 air quality observation points in 74 cities in 2012.