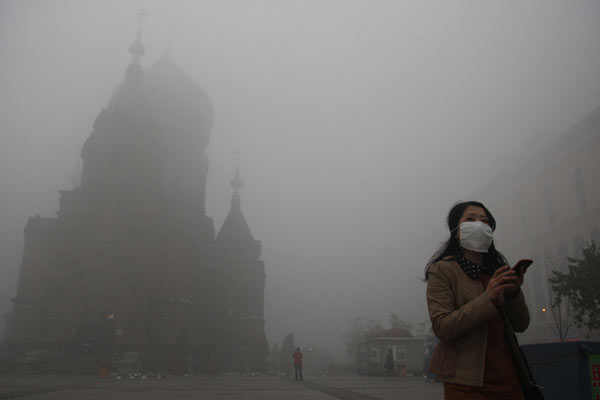 Heavy smog shrouds Harbin, Heilongjiang province, on Monday, as schools were closed and some buses stopped operating because of poor visibility on the roads. Photo by Xiao Gang / For China Daily
Choking smog shrouded Northeast China on Monday, forcing schools to suspend classes and disrupting flights and road traffic.
Meteorological authorities in Heilongjiang, Jilin and Liaoning provinces issued a red alert for thick smog.
All highways and Taiping International Airport in Harbin, the capital of Heilongjiang, were closed due to the weather.
At least 40 flights flying to destinations in southern China and Beijing among others were canceled or postponed at Taiping International Airport.
Education authorities in Harbin issued a notice to suspend classes at all primary and middle schools.
Visibility was reduced to 10 meters in the city, forcing some public buses to stop service. Many citizens had to walk or use other means of transport to work.
Drug stores in the city were selling out of masks.
"The sale of masks was at least 10 times the normal rate. We sold more than 140 masks this morning in our shop," said a salesman at a drugstore in Xiangfang District.
Among the city's 12 monitoring sites for PM2.5 — airborne particles measuring less than 2.5 microns — 11 reported readings of more than 500 at 8 am on Monday, according to statistics from the China National Environmental Monitoring Center.
In some areas such as Hongqi Street and Heping Street, readings even reached 1,000 in the morning.
A level above 300 is considered hazardous, while the World Health Organization recommends a daily level of no more than 20.
Li Yiming, 14, a student at Harbin No 76 Middle School, went to school at 6:30 am as usual, only to find that classes had been suspended.
Li Yuedong, Li Yiming's father, said he had to walk to his office because the bus service had stopped.
"It was hard to see far ahead, and the smog nearly choked me," he said.
Government officials attributed the smog to a lack of wind and farmers burning crop stalk after their autumn harvest.
The city's coal-burning heat system, which started on Sunday, also contributed to the severe pollution.
Fang Lijuan, chief forecaster of the city's meteorological station, said it is very rare for the city to suffer such bad conditions.
"There has been no strong wind, and the level of humidity is high," she said.
"How scary! It's the apocalypse!" one Internet user wrote about the air quality in Harbin, which was a hotly-discussed topic online. Some users compared images of the pollution to scenes from a horror movie.
Government officials are asking farmers to stop burning crop stalk, while Harbin's environmental bureau has also conducted checks on factories that discharge pollutants.
As well as Harbin, Changchun, the capital of Jilin province, also suffered severe air pollution.
The meteorological station in Changchun issued a red alert at 2:45 am on Monday.
With visibility of less than 100 meters, all 22 flights through Changchun Longjia Airport were delayed.
Visibility was less than 500 meters in most parts of Jilin province.
"Many drivers cannot see my gestures because of the smog. I have to shout to let them know my guidance," said a traffic policeman surnamed Gao at Guangfu Road in Changchun.
Xinhua, agencies and Liu Ce in Shenyang contributed to this story.