Trending news across China on Sept 3
Want more pocket money? Blow yourself to pieces. But for one three-year-old there's no need. He can pot 15 snooker balls within 10 seconds. Explosive talent – it's all trending across China.
Meng Ge's plea
The mother of gang rape suspect Li Tianyi has made a public apology for her 17-year-old son's behavior, but argued it was a consensual mistake, not rape, cnr.cn reported.
Li, who is son of Li Shuangjiang and Meng Ge, both prominent PLA singers, pleaded on August 28 that he was not guilty to gang rape, claiming he was drunk on the night in question and did not have sexual relations with the female plaintiff.
Meth driver
A van in Dongguan, Guangzhou province was eventually stopped by 10 police cars on Sunday after he hit and injured three people while driving. .
The van driver was allegedly under the influence of crystal methamphetamine, commonly known as ice, Nanfang Metropolitan News reported.
Kneeled confession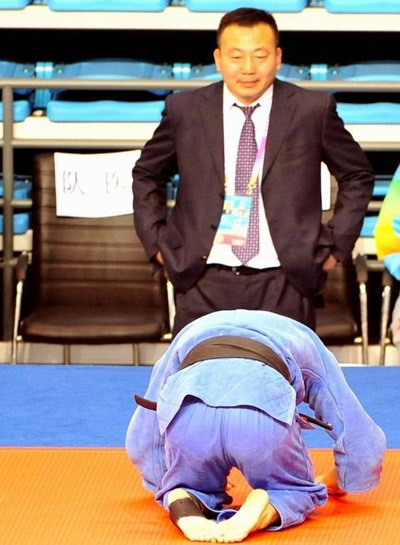 He Yunlong, a judo athlete kneeled in front of his coach after he lost the 12th Chinese National Games in Liaoning province on Sunday.
Some media reported his move was a way to apologies, but he said he was expressing thanks to his coach and teammates, qq.com reported.
Fatal IV
A resident surnamed Wang died on Saturday in Beijing Tiantan Hospital after he was given a five-minute intravenous infusion by mistake, Beijing Morning Post reported. The hospital has agreed a compensation agreement with his family members.
Noon bang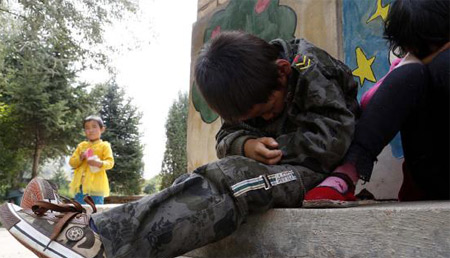 Some 50 preschool children sleep against a wall in Huangzhong county, Qinghai province, because they do not have any beds, chinanews.com reported.
But the noon nap is proving troubling work for teachers as the children keep falling over and banging their heads.
Budget travel
Liu Meisong, a writer in Shenzhen started a 100-day trip by car with only 100 yuan three years ago, cnr.cn reported.
He finally completed his scheduled trip with 222 bills to pay since he had borrowed nearly 50,000 yuan on the way.
Expensive rescue
A Lamborghini worth three million yuan run into a sidewalk after it spam out of control on Saturday in Fuzhou.
But rescue vehicles hesitated to move the car as it was so expensive, cri,cn reported.
Snooker ace, 3
Wang Wuka, a three-year-old child in Anhui province can pot 15 snooker balls within 10 seconds, CCTV reported. His father trained the gifted child playing Snooker five hours a day.
Explosive son
A 17-year-old boy in Anhui province threatened to blow himself up with explosives if his father refused to give his more pocket money on August 29.
Local police discovered the explosives were firecrackers that had been set off, anhuinews.com reported.

Editor's picks

Copyright 1995 - . All rights reserved. The content (including but not limited to text, photo, multimedia information, etc) published in this site belongs to China Daily Information Co (CDIC). Without written authorization from CDIC, such content shall not be republished or used in any form. Note: Browsers with 1024*768 or higher resolution are suggested for this site.
Registration Number: 130349