Uranium enrichment plant opens to media
A uranium enrichment plant in Lanzhou, capital city of Northwest China's Gansu province, opened up its manufacturing base to domestic media for the first time, YNET.com, a Beijing-based news portal reported on Monday.

Reporters were not allowed to shoot the centrifuge working area though, as a centrifuge is the core of uranium-enrichment equipment, and its secrets are strictly controlled by countries around the world.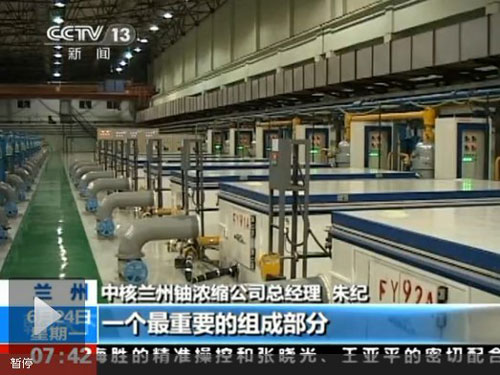 The uranium enrichment plant was featured on CCTV.
All the equipment, including the centrifuges, were developed independently in China, a reporter learnt from the staff in the China National Nuclear Corporation (CNNC).
Uranium enrichment technology is usually regarded as one of the criteria to judge whether a country can conduct nuclear tests. And the key equipment of uranium enrichment – centrifuge manufacturing technology – is classified as top secret.
Independent uranium enrichment technology is now ready for industrialization applications, the CNNC announced recently.

The enriched nuclear fuel, which has been produced at the factory, will be transported to every nuclear power plant in China after extraction and reprocessing.
The base once provided fuel for use in atomic bombs, nuclear submarines and nuclear power plants.