Struggling startups search for investors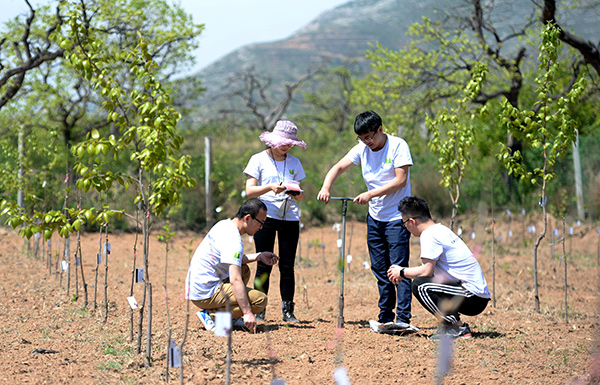 Employees of Xi'an Jinhua Ecological Technology Co take soil samples in Fuxian county, Shaanxi province. [Photo/China Daily]
Young entrepreneurs are fighting to find funding for newly developed techniques that could benefit the nation's agricultural sector, as Hu Yongqi reports from Yangling, Shaanxi province.
In 2006, Jiang Yiliang was a freshman at Northwest Agriculture and Forestry University in the Yangling Demonstration Zone, a city in Shaanxi province renowned for agricultural research and technology.
The only downside to his new life was that locally grown fruits lacked the vibrant taste and freshness of those from his hometown, Urumqi, the capital of the Xinjiang Uygur autonomous region.
"As a major in environmental sciences, I knew that damaged soil was one of the causes of the difference in taste. Soil remediation is a new way of improving the quality of local fruits, and can also be used in places where soil has been damaged by industrial contamination or excessive reclamation," he said. "I wanted to do something to improve the situation."
Nine years after he graduated, Jiang became the founder and CEO of Xi'an Jinhua Ecological Technology Co, one of a number of agriculture-related startups in Yangling.
In the demonstration zone, startups are working to produce a range of products and services, including equipment that monitors the mating seasons of dairy cattle to improve milk production, and drones to detect pests that harm plants.
Back to the land
In 2010, Jiang began working on soil technology when he started at graduate school and was taught by a professor who specialized in research into the "black soil" of Northeast China.
In the following five years, Jiang traveled nationwide to undertake detailed research to determine how soil becomes damaged and formulate a reclamation process that would benefit farmers.
Jiang was convinced that damaged soil was hampering the development of the nation's agricultural sector, reducing crop yields and undermining quality. He realized that remediation technologies could be used to help farmers and other players in the field.
In 2015, when they discovered that the market value of soil reclamation work was estimated to be as high as 900 billion yuan ($133 billion), Jiang and two other doctoral candidates established Jinhua, which now has 17 full-time employees.
Impressed by the company's prospects, an investor in Beijing provided 3 million yuan, while the company also generated revenue by providing soil tests and a range of other services.
Jinhua has developed technologies that restructure damaged or contaminated soil and help to retain water and organic matter. The techniques were used to cleanse more than 26,500 hectares of desert land used for potato cultivation in Shaanxi and the Inner Mongolia autonomous region.
The extra water and nutrients provided by the company's new technologies quickly helped to double crop yields to 52.5 metric tons per hectare.
Jiang represented the demonstration zone's young entrepreneurs and delivered a report about local conditions at a meeting with Premier Li Keqiang when he visited Yangling earlier this month. In response, the premier encouraged him to integrate his new technologies with deep cultivation farming techniques.
According to Li Guoxiang, who researches rural development at the Chinese Academy of Social Sciences, China is facing an agricultural dilemma; grain harvests have risen steadily in recent years, but most high-quality produce is imported. He believes that new technologies and business models can bridge the supply gap and improve the quality of produce.

Editor's picks