Mental health workers provide vital comfort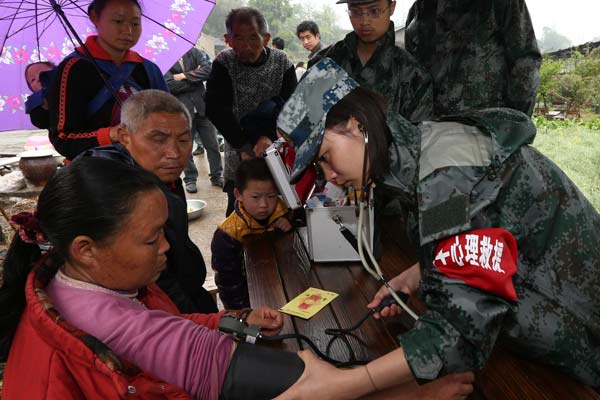 Cheng Wenjuan, a therapist with Chengdu's air force medical team, tests residents' blood pressure on Tuesday in Gucheng, a village in Lushan county, Sichuan province. Team members were the first medical personnel to enter the disaster area after Saturday's magnitude-7 earthquake. Liu Yinghua / for China Daily 
"My house collapsed, my house collapsed," Gao Zhenqing said, her eyes filling with tears.
The woman, in her 80s, lost her home in Yuxi village and everything inside when the earthquake struck Sichuan province's Lushan county on Saturday.
She has been unable to get over the loss and said she feels hopeless.
"This is a case of traumatized psychological disorder,"said Dong Wen, a therapist with Chengdu's air force medical team, the first medical personnel to enter the disaster area after the magnitude-7 earthquake.
"But it is not easy to discern. Some people would simply take this reaction as over-sadness or stubbornness and would neglect the effect."
Arriving in Lushan at around 4:30 pm on Saturday, the team began providing medical aid, epidemic prevention and psychological intervention.
Dong and his colleagues have found five traumatized psychological disorder cases in the village.
"Old people and children, who are more vulnerable than young and middle-aged people, are the focus of our screening,"the doctor said.
Through interviews, the professional therapists were able to determine which people may be suffering from psychological issues.
"Some old people were really stubborn and would not leave their houses,"said He Qiang, leader of the team.
"This is dangerous. Their obsession with economic loss or physical injury could lead to future problems and hinder disaster relief."