Stitches in time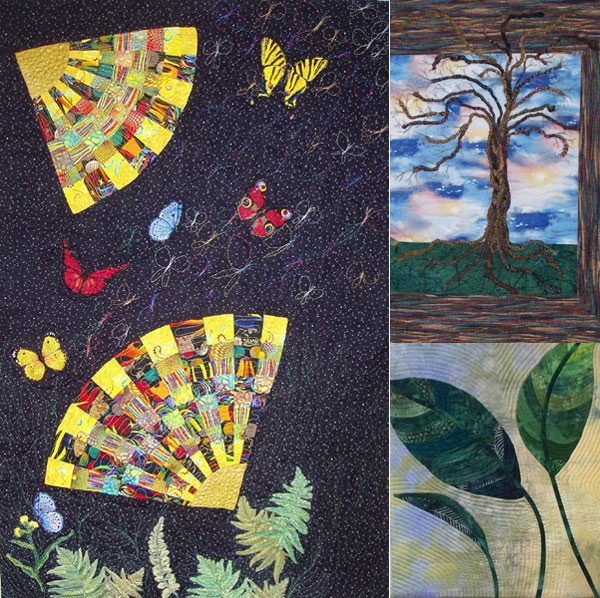 Finished quilts that Ginn uses to show her different stitching techniques include Butterfly Crossing (left), Twisted Tree (right top) and Leaf Study (right bottom). [Provided to China Daily]
A veteran quilter comes to Dalian and Beijing to share her art, Mike Peters reports.
Her art form has long been celebrated as a distinctly American, but Mississippi quilter Martha Ginn found an eager audience for her craft when she arrived in China late last month. There was a crowd to greet her at the Dalian Modern Museum, where her work is featured in a traveling quilt show sponsored by the US embassy. A week later she was presenting a workshop at Slow Life Patchwork, where about 20 quilters were seated at sewing machines, ready to go.
Quilts may not be a tradition here, she says over a cup of coffee after the workshop, but the craft is not alien. Quilting techniques have often been used in making clothing - especially formal dress, she notes, and that goes back to imperial times.
"Quilts were on every bed in our home and I naively assumed everyone had them," she says with a chuckle. "Both of my grandmothers quilted and sewed and crocheted," she says. "I enjoyed embroidery as a child, but I didn't try to make a quilt until about 30 years ago."
Ginn and her daughter Linda, a librarian who traveled to China with her mother, had been working from a cross-stitch book making quilt blocks. "I knew I had found my passion," she writes on her website. The blocks she and Linda had made "were so beautiful that they deserved a 'real quilter' to assemble and quilt them".
Since that first quilt came together in 1984, Ginn has been a "real quilter indeed", exhibiting her work in innumerable shows and featured as recently as January in American Quilter magazine.
"I didn't come from an art background," she says. "I started with the very traditional, from patterns in a book, but I soon got a little frustrated.
"I wanted to express myself with my own designs as a fiber artist - not finish someone else's," she recalls, likening her initial experience to "paint-by-number" kits that were popular in the US in the 1960s.
"My first foray in expressing myself was completing a Baltimore Album, a milestone for every quilter. This is an 1850's style quilt, something like a picture album, in which each block has a special meaning. It's a story of a life."
There were patterns available to fill in certain kinds of events (such as babies, hearts), but Ginn soon found herself making several of her own blocks from scratch.
"We have some good Chinese friends at home," she says, "and so I included the double-happiness symbol to commemorate that special friendship. And since I was working on this in 1992, the 500th anniversary of the landing of Christopher Columbus in America. I wanted to include a block for that, too. So I drew my own ship," she says with a chuckle. "And then I drew my church, to make a block commemorating my faith, and wrote a bit of scripture I like to sew into the design."
Then came family. Her dad was a Texas highway patrol officer, so she created a block that incorporated the button design from his uniform.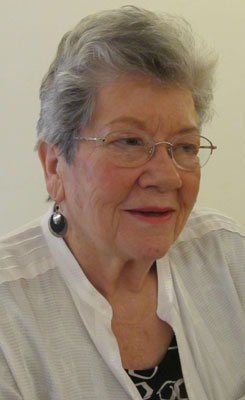 Martha Ginn, quilt artist. [Provided to China Daily]
"Making a Baltimore Album quilt is a sort of paying-your-dues step," she says. "Once I'd mustered the skills to create a Baltimore Album, I knew I could do anything else." She started that quilt in 1990 and finished it five years later; it has hung at major quilt shows around the US.
"I use cotton, organza, silk, anything I can find!" she says, holding up a pillow-sized quilt block for demonstration. "See here I've added this flossy fiber we call 'angel hair', and here some painted cellophane to represent water, which I've heated to make crinkly."
Designs come to her quickly, she says, but with the cutting and sewing involved, many of her quilts take more than a year to complete. "That's partly because like most quilters, I'm working on three or four at once. My Japanese Lanterns quilt, for example, was made entirely of 1-1/2 inch strips, in a complicated arrangement of colors. I'd work on that for several days, but then need a break and I'd go do something less intense."
For Ginn, a big part of her hobby's charm is the social circle it provides.
"The quilt guild in our town is a big and active one," she says of Hattiesburg, a community of 46,000 people. "We do a lot of quilts for children, and give them away for charity sales. They are simpler and fun, a nice diversion."
There are also big shows - in Paducah, Kentucky, home of the National Quilt Museum, and in Houston, where quilters take over the entire convention center in that Texas city for a week.
There can be $10,000 for the winning quilts in shows like that, she says. The jury process to get into those shows is very competitive "it's a win just to get in", says Ginn.
"Everyone is an artist to some degree, but they need to discover that in themselves," she says.
Contact the writer at michaelpeters@chinadaily.com.cn.