Beijing, Shanghai announce property regulation details
New rules set to cool real estate market
Beijing and Shanghai on Saturday announced detailed regulations following the central government's recent policies to further cool down the real estate market.
In Beijing, single adults with the capital's hukou - registered permanent residence - are allowed to purchase only one apartment, as opposed to two previously.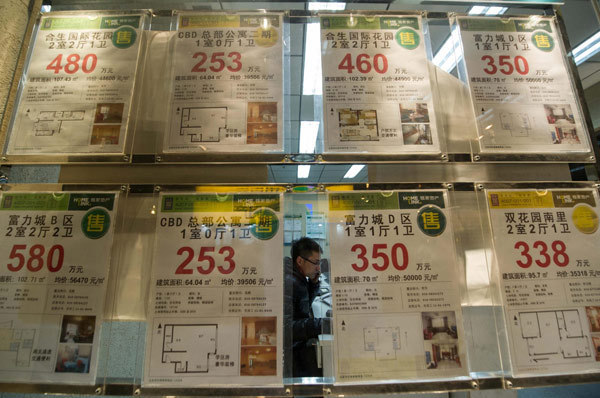 Advertisements of houses for sale posted at a real estate intermediate company, in Beijing, March 30, 2013. [Photo/Xinhua]
"The move is aimed at meeting the needs of self-occupancy home buyers, given the limited supply. It will also help to curb investment-oriented purchase," said Wang Rongwu, deputy director of Beijing Municipal Commission of Housing and Urban-Rural Development.
If a house owner sells the property within five years after purchase and the apartment is not the only one owned by the family, sellers have to pay a 20 percent capital gain tax. The down payment for a family's second home purchase will also be increased.
These regulations will take effect from March 31, Beijing Municipal Commission of Housing and Urban-Rural Development said.
Shanghai will also strictly follow the 20 percent taxation policy and increase the down payment and mortgage rates for second-home purchase, depending on market condition. No loans will be approved for the purchase of a third house.
These rules follow the central government's plan on March 1 to tighten control over the property market amid expectations of rising housing prices.
The Beijing government will also not issue sales licenses for projects with prices that are much higher than the average rate in the region.
"All these measures will help to moderate people's expectation and result in a drop in property transactions, especially in the pre-owned home market," said Ji Gang, a senior director in the investment department of real estate service provider Savills Property Services (Beijing) Co.
He said whether the municipal government's policy to intervene the pricing of new residential project will help to stabilize home prices depends on land prices.
"If the land price continues to rise, it is still difficult to expect property developers to cut the sales prices," Ji said.
The property market saw a surge in residential home transactions before the detailed rules were released.
Statistics from Beijing Municipal Commission of Housing and Urban-Rural Development showed that the transaction of pre-owned homes in February stood at 10,123 units, and soared to 40,623 units by March 28.
"After that period of panic purchase, commercial property projects will receive more attention from investors as most of them have noticed the government's determination to further curb speculative home purchases," said Chen Guoqiang, vice-president of the China Real Estate Industry Association.
A commercial project developed by R & F Properties along the south fourth ring road in Beijing, which opened for sale on Saturday, sold close to 70 million yuan of property on its first day - much higher than the company's expectation.
Most buyers are those who fall under the restriction of purchasing more residential apartments and thus, are now betting on commercial projects for both value and rental increase, said a sales manager of the project.
But, analysts said the new measures will likely only have limited impact on the overall property sales and construction this year. And, if the current measures are not effective, new rounds of tightening will be rolled out, according to investment bank UBS AG.
"In the short term, we are not worried about a property bubble collapsing in China, even though there are clearly some unhealthy elements in the property market," said Wang Tao, chief economist with UBS AG in China.
While the physical market should be supported by the broad-based property recovery and the urbanization push, anticipation of policy overhang will be a constant dampener to market sentiment, Wang added.
Wang Sujuan contributed to this story.
huyuanyuan@chinadaily.com.cn
Related stories:
Beijing announces new property rules
Looming property taxes spark owner panic