House price hikes thwart 'China dream'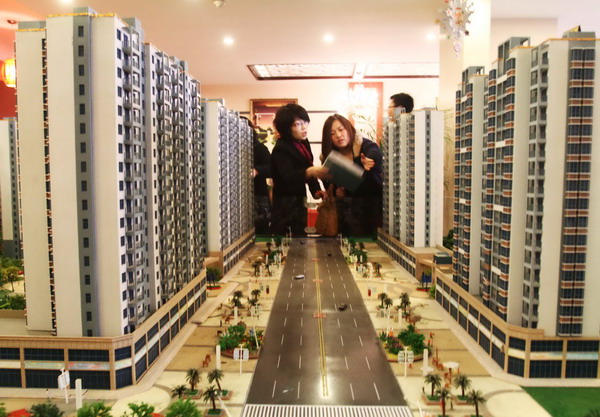 People look to buy a house at the sales center of a real estate company in Xuchang, Henan province, March 17, 2013. [Geng Guoqing / Asianewsphoto] 
BEIJING -- Soaring house prices are gnawing away at common people's "Chinese dream" of a home, fairness and happiness.
A house is a must for many Chinese to build a family and lay down their roots. The fact is, though China's house price growth rate has kept falling in the past five years, the average house price has climbed to a level hard to bear for most people, especially for those in their 20s or 30s.
High house prices is affecting healthy economic development, creating a sense of unfairness and impairing people's confidence in the government.
At the conclusion of the annual parliamentary session last weekend, new Chinese President Xi Jinping said all Chinese people deserve common opportunities of realizing their dreams and enjoying a wonderful life.
Premier Li Keqiang also said during the session that the government should ensure fairness and equal opportunities for its people. Everyone, in spite of their family backgrounds, will benefit if they put in the effort, he said.
Earlier this year, the Chinese government put its 2013 GDP growth, which to a large extent is driven by real estate, at around 7.5 percent. New measures have also been meted out to limit investment-oriented housing purchases.
But huge pressure remains for the re-installed housing minister Jiang Weixin.
Definitely it is not a wise way for the government to immoderately cash in on land, which will further push high house prices and overdraft China's future.
But it is feasible to rationally make use of land, such as advance the low-income housing project, which will increase employment and relieve many people's property hardship.
Never stop regulating and controlling house prices, and concentrate on building a happy human habitation, that is a way to realize the coordinated progress of the economy and people's well-being.
Real estate experts bet on housing prices
Housing prices rise in more Chinese cities
China's real estate market reacts to new measures
China to 'firmly rein' in property speculation
New property curbs spark heated debates