Pre-owned house sales soar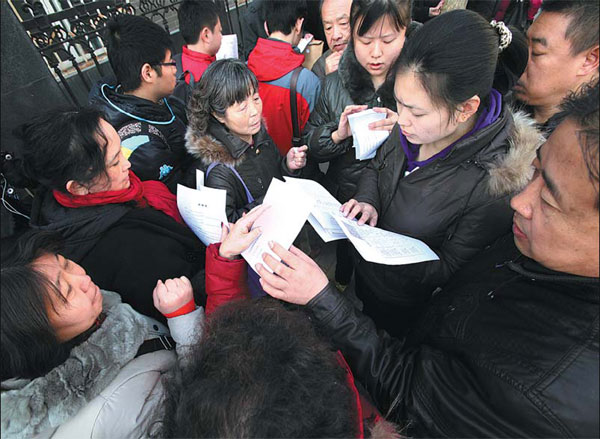 An employee distributes material needed for secondhand home transactions at a housing center in Beijing. [Photo/China Daily]

A total of 9,400 homes sold last week in Beijing, a rise of 279.5% year-on-year
Pre-owned home sales almost tripled in Beijing last week, following the latest moves by the State Council to control the property market.
Figures released by the Beijing Municipal Commission of Housing and Urban-Rural Development showed a total of 9,400 apartments were sold and signed online last week (March 2-8), a 279.5 percent rise on the same period last year.
On a monthly basis, the figures represented a 140.5 percent increase on the previous week.
The central government issued rules to further tighten controls on the property market on March 1. It said that homeowners who sell their homes will be levied an income tax as high as 20 percent on the profit they make on a transaction. Prior to the new rules, the income tax levied was 1 to 2 percent of the sale price.
Experts said the new rules have sparked frenzied activity in the pre-owned market, as both buyers and sellers worry about the soaring transaction costs as a result.
"First-home purchasers, as well as those buyers looking to improve their living conditions are the two major types affected by the new policies," said Hu Jinghui, vice-president of 5i5j, a major property brokerage firm based in the capital city.
A survey by SouFun Holdings Ltd, a leading real estate Internet portal, showed that about one-third of potential homebuyers had changed their home-purchase plans as a result of the tougher policies.
Chen Li, a company executive living in Beijing's Tiantongyuan area, said: "I did not plan to sell my apartment before the launch of the 20 percent taxation policy.
"But considering I may have to pay around 200,000 yuan ($32,100) tax once the policy is in place, I'd better make a deal right now," he said.
According to the SouFun survey, homebuyers in first-tier cities such as Beijing and Shanghai were concerned about the new policies, with 28.81 percent of respondents saying they will quicken their buying process as a result. In second-tier cities, the figure was 10.25 percent.
In Beijing, 80 percent of potential buyers said they planned to snap up an apartment in 2013, with first-home buyers expected to dominate the market.
More than 40 percent of Shanghai respondents said they would like to complete their transaction sometime between April and June, while 23 percent said they aimed to buy a property before the end of this month.
More than half of all potential homebuyers said they believed that prices will pick up further, of which 11 percent expected them to soar.
Though most industry analysts expect the new policies to benefit the new-home market, some large-scale property developers suggested they have no plans to change their pricing strategies as a result.
"We still need time to see how the cabinet's policies change the market," said a manager at Greentown China Ltd, who declined to be named.
"So far, we don't have any plans to increase the prices of our projects, but we will not cut prices either, given the market recovery."
China's real estate investment sector has strengthened amid an overall property recovery.
In the first two months of 2013, property sales growth increased from 11 percent year-on-year in the fourth quarter of 2012 to about 50 percent year-on-year, according to recent statistics by the investment arm of Royal Bank of Scotland PLC.
China sales at Longfor, a Hong Kong-listed property developer, for instance, reached 6.03 billion yuan in the first two months of this year, up 82.2 percent year-on-year.
A marketing manager at Sunac China Holdings, also a Hong Kong-listed property developer, said its pricing strategy had not changed, and the pace of releasing units to the market would remain as before.
Louis Kuijs, an economist with RBS, said: "We think the strength of property sales may not last, especially in light of the recent calls by the State Council to reinforce tight property policies.
"Nonetheless, we expect that with enough underlying demand for property, given robust income growth and urbanization, the strong financial expansion in the past six months should help support property construction in 2013."
huyuanyuan@chinadaily.com.cn