Latest government curbs hammer property stocks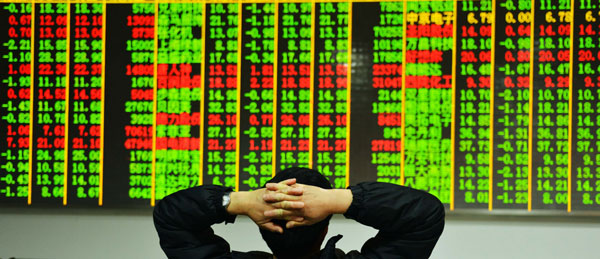 An investor at a brokerage in Hangzhou, Zhejiang province. The Shanghai Composite Index fell 3.65 percent on Monday to close at 2,273.40 points. [Photo/China Daily] 
More than 50 listed Chinese real estate developers hit their 10 percent daily share fall limits on Monday, with the CSI300 index experiencing its worst day in 28 months, amid worries over the effects of further government moves to curb housing prices.
The Shanghai Composite Index fell nearly 3.7 percent to 2273.40, the biggest one-day drop since August 2011.
Included in the list of falls was China Vanke Co, the nation's largest property developer, which saw its shares drop 10 percent to close at 10.84 yuan ($1.70).
The CSI300, which represents the nation's biggest companies listed on the Shanghai and Shenzhen stock exchanges, dived to 2,545.7, or 4.6 percent, the largest single-day decline since November 2010.
The State Council announced on Friday that cities should work to maintain a stable property market, with measures including ordering individuals selling properties to pay a 20 percent tax on sale profits as well as raising down payment requirements and interest rates on second-home mortgages.
In many cities, the current tax on individuals selling properties is 1 percent of the selling price.
"The curbs on the property market may easily extend its impact to other sectors, such as banking, machinery manufacturing and cement makers," said Chen Lei, analyst with Citic Securities Co Ltd.
Share prices of Anhui Conch Cement Co Ltd and Sany Heavy Industry Co Ltd dropped more than 8 percent.
Measures to curb excessive growth of home prices in several cities have cast similar shadows over property developers since late February, but declines in the market are expected to worsen as a result of the latest announcement, said Chen.
Vanessa Chan, a Hong Kong-based property analyst, said central government regulation and control over the property market will curb speculation, but the big players will not be affected in the long run if their product lines focus on areas of highest demand.
"We do not expect regulation and controls to be drastic — in the long run changes will be gradual," said Chan.
Analysts said property tax and limits on house purchases may be introduced to more cities and drag down sales of homes.
It is highly possible that in major cities sales of homes will drop in the near future, according to a research report by Orient Securities Co Ltd.
Contact the writer at wuyiyao@chinadaily.com.cn