Tempting big spenders with their own language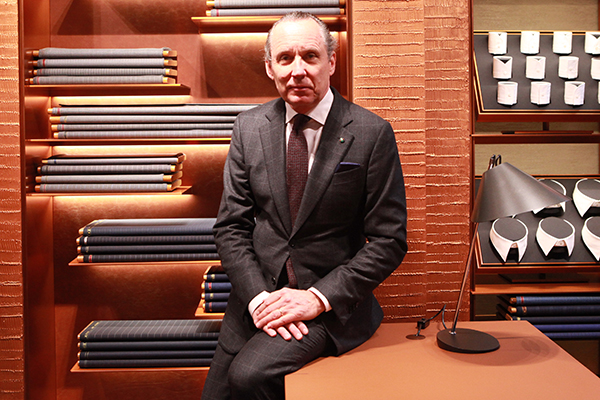 Ermenegildo Zegna, the fourth-generation CEO of his family's fashion house and brand. [Photo provided to China Daily]
Luxury fashion brand's new store in London caters to customers from China with more tailored services
Italian menswear designer Ermenegildo Zegna has taken Chinese customers to heart with salespeople speaking their own language at its new and largest store in London's Bond Street.
The store, launched on Nov 9, has hired Chinese-speaking sales staff and is offering the personalized services of a Chinese consultant who can explain the brand's history and culture.
The luxury menswear brand's CEO, Ermenegildo "Gildo" Zegna, said the move shows a strong focus on Chinese shoppers overseas as a result of soaring number of Chinese tourists visiting the UK.
The fourth-generation CEO of his family's fashion house said: "Chinese customers are one of our biggest clientele. By offering native speaking staff, who understand the culture and the customers' needs, we are able to bring a comfortable shopping experience to our Chinese patrons."
The Italian company, which owns sheep farms in Australia that supply wool to its Italian mill, opened in China in 1991.
It was the first luxury apparel company to launch in the Chinese market and China is now its biggest single market, accounting for about a third of global sales of 1.26 billion euros ($1.34 billion) in 2015.
"This would not have happened if we hadn't taken the market seriously by making an early entry, building the right store, creating the right team and continuing to invest in new things," Zegna said.
He believes China is a market where retailers cannot stand still, because customers keep asking for more and the competition is fierce.
"To remain a leader as a menswear luxury brand in China you have to keep renewing yourself and reinvesting in the brand to make sure that people are given superior service and a constant innovative brand proposition," Zegna said.
He added that China's key stores were a testing ground for new products and new ideas as Chinese customers enjoyed looking for something new.
Recently Zegna spoke to China Daily about his vision and strategy and new opportunities for Zegna's operations in China.
The following are edited excerpts of the interview:
How would you describe Zegna's prospects in China in the current economic environment?
Our commitment to China has been demonstrated over many years. As you know, we have been dressing Chinese men for over 25 years dating back to 1991, when we opened our first China boutique in Beijing.
Throughout this time we have been fortunate to see the amazing change and development that has made China what it is today.
We have offered the Chinese gentleman unparalleled craftsmanship and bespoke style that is both modern and highly relevant to their wardrobe needs.
When I look at China's future, I believe digital is the key-everyone in China has a mobile phone.
We have to understand quickly how customers' desires change and that's why you need to be connected as a brand and tell your story via mobile.
This generation has been rocked by digitization, and the organic integration of online and offline sales can offer a whole new development path for the Zegna brand in China and globally.
What is your company's biggest achievement here since 1991, when Zegna entered this market?
As you know, we are a fourth-generation family business, which I am sure you will agree is already a great achievement in itself. I believe it is the huge following we have developed with our Chinese customers.
Over the past 25 years, we've been offering consistent excellence in quality, fabrics, service and innovation. This has resulted in Zegna having an extremely loyal Chinese customer base.
I am glad to say that thanks to our dedication and passion, we are still able to deliver to our global customers of all ages and backgrounds-and to Chinese gentlemen even after such a long time in the market-a contemporary image and esthetic.
As one of the first few luxury brands launched in China in the early 1990s and having witnessed the evolution of luxury brands, how would you describe Chinese consumer trends with regard to luxury brands over the last 20 years?
Chinese consumers have become a driving force for global innovation and this is especially true in fashion.
We see our Chinese customers as some of the most discerning customers Zegna has, and I know our new Creative Director, Alessandro Sartori, is very much looking forward to getting to know our customers on the Chinese mainland.
In your view, what is the secret of Zegna's success in China?
We embrace our fourth-generation family heritage, with a relentless focus on quality and service. We have always been able to adapt and move forward with innovation.
We have to move quickly in terms of product innovation and need to create continuous excitement in our stores, which we can do also thanks to our supply chain.
We also place critical importance on understanding the culture of each of our markets globally. We strive to understand local traditions as much as possible.
Other than seeing the world from a global perspective, you have to see it from a more local point of view.
We love interpreting local desires by anticipating new trends and to do that, you need to spend quality time with customers. With this "local vision", we will continue to place great importance in the Chinese market.
I believe our customers in China feel this, and respond accordingly by being very loyal to the Zegna brand.
What do you think is the competitive edge of your brand in China?
I think China is still at the forefront of luxury in Asia. Competition for luxury brands is fierce and we need to invest a lot of ourselves in terms of budget, energy, ideas and time to make sure to be competitive.
Storytelling is crucial since you need to convey an emotion through the product. Nevertheless, we will continue to offer the hallmarks of the Zegna brand-luxury, style, quality, craftsmanship and of course innovation in every area.
What essential leadership qualities do you consider most important when leading your team to growth in the Chinese market?
You must strive to find a good way to communicate with the team, and keep an open mind.
You also have to look into the long-term future but at the same time must not forget about the original values and traditions.
How do you handle the challenges your team has encountered in China, if any?
I think it is the same with every market. You figure out what works and you constantly flex your business strategy to meet the demands of a market.
The fantastic thing about being a family company is our ability to move quickly. This has become so critical in this world, where customer preferences and the retail landscape have shifted so quickly.
What are the dreams you have for your company in China?
I am in awe of the progress China has made in the 25 years I have been operating in the Chinese market.
When you look at the absolute growth, the numbers in China year-on-year are astounding. I want us to continue to share our heritage with this fascinating country and culture.
What are your hobbies? How do you spend your time outside of work when you are in China?
I like to play tennis on the weekend, skiing in the winter time and walking in the countryside.
I am also passionate about vintage car races.
CV
Age: 61
Birth Place: Turin, Italy
Career:
1997-onwards: CEO, Ermenegildo Zegna Group,
1986-89: CEO, Italco SA (Spain)
1982-85: President, Ermenegildo Zegna Corporation (US)
Education:
Harvard Business School University of London
Award:
The "PremioLenardo 2015", a prestigious award given to an Italian personality who has acted in a significant way to promote the image of Italy globally
Family:
Married with two sons