A decade of hot sales and still going strong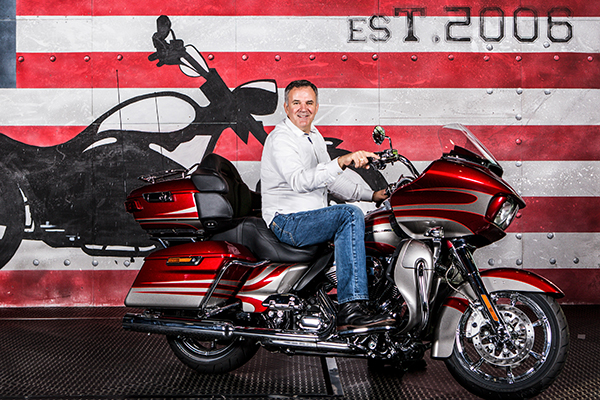 Matt Levatich, president and chief executive officer of Harley Davidson Inc. [Photo provided to China Daily]
There will be more dealerships in big and small cities in China, says Harley-Davidson chief
Every morning Matt Levatich walks into his garage and listens to his three Harley-Davidson motorcycles to hear which one of the Harleys "speaks" to him, and picks the one that he feels right for the day.
The mechanical engineer by training and president and chief executive of Harley-Davidson has a passion for engines, power, and range which goes beyond mere words to describe.
Growing up riding bikes, Levatich combined his business ambitions and lifestyle when he joined the company in 1994. He has been biking in many places around the world-and one of the motorcycling trips that impressed him most was when in 2006, Harley-Davidson first entered the China market, he rode along the Great Wall with other 30 owners of the motorcycles known affectionately as members of Harley Owners Group, H.O.G. Subsequently he witnessed the fast expansion of the business in the past decade through frequent visits to the mainland.
Levatich recently talked to China Daily about the company's strategy and the motorcycling culture in China. The following are edited excerpts from the interview.
What kind of lifestyle does Harley-Davidson represent? How would you describe a person who follows this life-style?
I think every culture has a slightly unique perspective on Harley. But what they all have as a very common perspective is this sense of freedom, and a sense of identity that "I'm a certain sort of person and I wanna make a statement about who I am as an individual." We call it personal freedom and it's the core of what the brand means for the riders.
How do you evaluate Harley-Davidson's performance since it entered China in 2006?
I am quite pleased to see the number of Harley-Davidson owners grow quickly in the past decade and the brand is widely known among consumers. Financially China, as a part of the Asian market, is also one of the fastest-growing markets despite a fiercely competitive environment. We are pleased to see the passion from Chinese riders and we are confident that more understanding of the riding culture will drive growth.
Which Harley-Davidson models sell the best in China? and Why?
The Harley-Davidson Street 750 motorcycle and Sportster motorcycles are both best sellers in the China market. These two families appeal to young riders in China who are keen on agile and powerful rides in China's urban environments. Moreover the Street, Iron 883 and Forty-Eight models form the Dark Custom lineup-hard-nosed machines that offer an authentic, affordable experience to a new generation of riders, who want to make the Dark Custom motorcycle his or her own with accessories, ingenuity or riding experiences. This aspect certainly appeals to Chinese riders.
What is your vision and objectives for Harley-Davidson's business in China?
Establishing the business 10 years ago and building it up carefully to have that level of passion in those numbers (of owners) is quite remarkable. And to see them all come to the rallies and celebrate-it's building the right kind of understanding and the right kind of momentum for us. We look at the Chinese market as being very important for Harley-Davidson in the long term. We have goals and they certainly include sales and also putting dealers in tier 2 and even tier 3 cities over time. That will help us to expand our reach to people, to have access to our brand.
How do accessories, clothing and other non-motorcycle products contribute to the overall Harley-Davidson business?
The whole package of the motorcycle, the rider, the experience, the fellow riders and those other items-clothing and accessories-helps create a real, richer experience for the rider. We have a relatively strong heritage, again, worldwide. It is all about customization or personalization of the motorcycle.
Have market conditions been more challenging in the past few years-or is it as friendly as before for Harley-Davidson in China?
There is no simple answer. Even in the United States, it's been difficult when you look at the economic indicators such as GDP, consumer confidence and so on. But the degree to which people want to spend money on a car, house, vacation or a Harley-Davidson is a function of many things. And there's no refining it in this day and age around the world. There are lots of uncertainties and all these things go into us being able to perform as a business in a world that is less predictable than it used to be.
How does Harley-Davidson cooperate with its dealers?
In China we already have 23 dealerships. In the future, there will be more dealerships in key cities and we are also looking at lower-tier cities where there are increasing numbers of consumers who have embraced the riding culture. Opening a dealership like the massive and amazing facility in Beijing requires a huge investment, and we are making every effort to support our dealerships and provide best-quality products, to ensure that the investment is a success.
How does Harley-Davidson fit in the context of increasing importance attached to the environment?
In 2014, we introduced a demonstration of an electric Harley-Davidson motorcycle and we took them around the world to give customers an opportunity to try them out. That's because most people would say "I don't understand (why Harley-Davidson is making electric motor cycle)." The other thing is when people think of an electric motorcycle, they think of something maybe a little boring, underpowered and not fun, and we wanted to show people what is possible in an electric Harley-Davidson. The feedback has been just fantastic. They want it now and say: "why can't I buy it today?" But we know we can offer products with more range, lower cost and we are moving toward to that. We are looking forward to launching the electric motorcycle in the next five years.
How does Harley-Davidson cope with the changing tastes of riders? Is there any plan for new targeted groups such as young riders?
We use products to increase the reach of the brand and people can find their way to Harley-Davidson through different products. And that's important for us, not just in China, but in markets around the world. Increasing the reach and the impact that we can have with the product-to women, young adults, new riders and experienced riders-is about making sure that we capture their emotional excitement. We are a very emotional brand and we want to make sure we stay that way, because it's a special place to be.
How would you describe your leadership style?
I don't have an easy answer. I have incredibly high standards. I don't usually come across as demanding. I'm not (sort of) a boss. But there are things that need to be done in certain ways. High quality. High focus. High intensity. And these are the expectations I have for myself as a person doing anything. I am kind of person with the kind of thinking of: "if you are going to do something, do it and do it well and get it done." I bring all that passion. Sometimes, I'm sure, the intensity is constructive. Sometimes, maybe less so. I'm just a true believer in that the business has to be the best for the customer and then it'll be good for the investors, good for the employees and good for everybody else.
What routes in China would you like to ride in the near future?
I would love to ride more in China. My son has studied Mandarin in high school and college. He spent two months with me, one summer, touring round China and one summer living in Kunming. And I flew into Kunming once and flying around just before landing, I thought how beautiful it was from the air and the mountains. I always think to myself that it would be a great place to ride around. We have dealership in Kunming and we've had an event in Dali and the riding around was absolutely spectacular and the weather was great. So I had this instinct, looking out from the window, that it was a good place to ride. This is one of the great joys of my job-the opportunity to ride in these beautiful places around the world.