Plans to cool housing sector
Guangdong to enforce the new 20% income tax on home sellers' gains
The Guangdong provincial government has unveiled rules to curb rising housing prices, and promised to strictly enforce the country's new 20 percent income tax on home sellers' capital gains.
Early this year, the State Council, or China's cabinet, announced that property owners who sell their homes will have to pay an income tax equivalent to 20 percent of the profit they make on the transaction. The income tax for such sales is currently 1 to 2 percent of the sale price. The new measure is intended to cool the property market.
According to a notice issued by the Guangdong provincial government late Monday night, all Guangdong cities are required to introduce their own specific measures to help bring rising property prices to reasonable levels while strictly enforcing the central government's policies on curbing real estate prices.
Guangdong's major cities - Shenzhen, Zhuhai and Foshan - are required to make public their targets and specific rules on curbing home prices before the end of March.
Meanwhile every city is asked to speed up construction of affordable houses for low-income families, the notice said.
Guangdong will complete construction of at least 116,000 affordable apartments in 2013, with construction of another 78,400 to be under way.
Those officials who fail this year to bring their cities' property prices to reasonable levels and to construct affordable houses will be held accountable, the notice said.
Guangdong has become the first province to introduce specific rules on curbing property prices in the mainland after the State Council announced the new capital gains tax.
Chen Rugui, executive vice-mayor of Guangzhou, said the increase of property prices in Guangdong's provincial capital will not be more than the city's gross domestic product growth rate this year. The GDP growth rate this year is projected to be about 8 percent.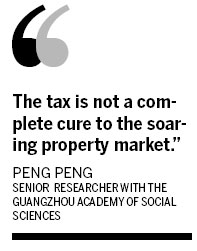 The average price of properties in the southern metropolis was about 14,000 yuan ($2,250) a square meter last year, up 14 percent year-on-year.
Guangzhou's property price witnessed another 14 percent growth in January and February, with the highest price coming to more than 30,000 yuan a square meter in the city's busy downtown areas, Chen said.
He urged city departments to introduce measures to help achieve the goal of cooling the local property market.
Peng Peng, a senior researcher with the Guangzhou Academy of Social Sciences, said local cities still have to introduce more detailed rules to help curb soaring property prices while strictly implementing the central government's capital gains tax.
"The tax is not a complete cure to the soaring property market," he said.
Peng urged the introduction of a house tax to help fight property speculation.
Han Shitong, a local property expert, said he found nothing new in Guangdong's specific rules.
"Guangdong's specific rules only repeated and reaffirmed the central government's measures in cooling the real estate market," he told local media.
Many residents are waiting to see what the coming months hold before they decide to buy real estate.
"I really do not know whether the property price in Guangzhou will go down, or not, when the provincial government introduces the specific rules on curbing home prices," said Wang Hongwei, a white-collar worker in Guangzhou.
"I will wait for several months when the property prices have become somewhat stable before I buy an apartment," said the 30-year-old, now working in a logistics company in Guangzhou's Tianhe district.
zhengcaixiong@chinadaily.com.cn