Rapid growth in home-appliance sales: Report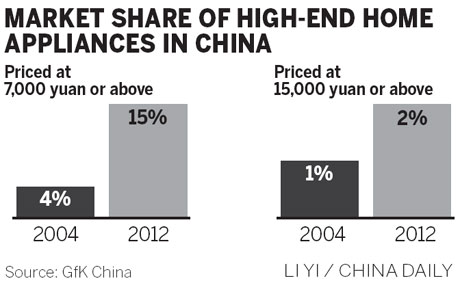 Chinese consumers are 'getting increasingly rational', and willing to spend more on high-end products
Although income growth has slowed in recent months, consumers are willing to pay more for home appliances, especially expensive ones, according to a report released on Wednesday.
The report by GfK China, a market researcher and information provider, said China's high-end home-appliance market will grow fast in the next three years.
China's consumers want home appliances with high efficiency, large volume and a long life, said Friedemann Stoeckle, director of GfK's global white-goods department.
"Unlike the conspicuous consumption that had been observed in the home-appliance market in China in the past few years, today's Chinese consumers are buying quality appliances because they are getting increasingly rational, and they value the design, techniques, innovation and materials more than ever," Stoeckle said.
State policies that urge industrial upgrading and transformation, promotion of energy-saving products and accelerating urbanization may further boost the growth of demand in the high-end market, the GfK report said.
The report, which monitored home appliances sales in more than 270 cities around China, said that in 2012, China's consumers bought about 380,000 flat-panel display televisions with screens larger than 60 inches (152.4 cm), almost double the number sold in 2011.
As many as 270,000 refrigerators that cost more than 10,000 yuan ($1,609) each were sold; washing machines with a capacity of more than 8 kg saw a sales record of more than 360,000, the report said.
The market share of home appliances that cost 7,000 yuan and above was less than 5 percent in the entire household appliances market in 2004. However, the figure jumped to 15 percent in 2012, according to GfK China.
"With more purchasing power in hand, consumers are looking for home appliances with higher quality designs, and they are detail-oriented," said Hu Xiaohong, head of the market information department at the China Household Electrical Association.
Consumers now have more knowledge about how to evaluate the quality of household appliances. For example, he said, in the past it was hard to convince customers that washing machines with seamless welding technologies will last longer and perform better, but now buyers will ask salespeople whether the products have that technology.
Some of China's appliance producers said the high-end market in China is still in its infancy, and while the potential for a booming market is high, consumers and distribution channels need more information and knowledge to boost the healthy growth of the market.
"Consumers need to identify what functions are really useful and what are just fancy-looking," said Dong Yuejun, of Ningbo SMAL Electrics Co Ltd.
"For example, if one is looking for a heater, he or she does not attach too much importance to whether it can humidify and purify the air at the same time."
Consumers in China remain price-sensitive, and they need more channels to learn the differences among products that target people with varying levels of purchasing power, said Zhou Qun, GfK China marketing director.
High-end home appliances in China are sold only in retail channels at exclusive realty projects and upmarket department stores, and the number of brands in competition in the market is limited, Zhou said.
Xu Weida, CEO of China operations with De Deitrich, a French appliance maker, said the brand mainly cooperates with exclusive realty developers to maintain its deluxe-brand image.
"Given time, as more brands are introduced to China and the domestic market cultivates more players, a mature market will emerge in China," Zhou said.
wuyiyao@chinadaily.com.cn