Xi hails China-Congo ties as 'model of cooperation'
By WU JIAO in Brazzaville, Republic of Congo and LI XIAOKUN in Beijing | China Daily | Updated: 2013-03-30 01:53




President visits Republic of Congo on the last leg of his African tour
President Xi Jinping arrived in the Republic of Congo on Friday, making the first state visit to the country by a Chinese president since diplomatic relations were established 49 years ago.
"The ties between China and the Republic of Congo can be called a model of South-South Cooperation," Xi said in a written statement on his arrival in Brazzaville, the country's capital.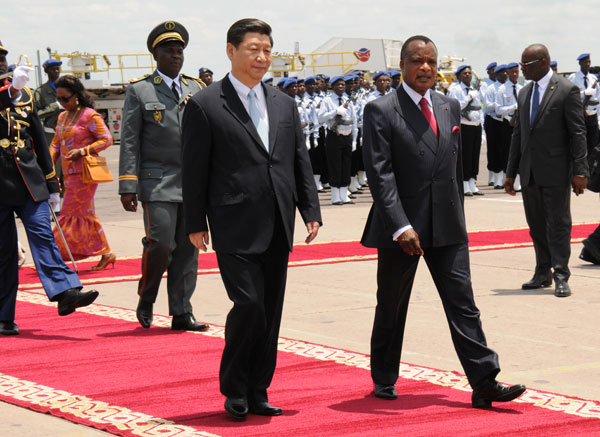 President Xi Jinping is welcomed by Denis Sassou Nguesso, president of the Republic of Congo, at an airport in the country's capital Brazzaville on Friday. LAUDES MARTIAL MBON / AGENCE FRANCE-PRESSE
Xi said the rapid development of bilateral ties has witnessed fruitful pragmatic cooperation in various dimensions and brought tangible benefits to people of both nations.
Later on Friday, he met the president of the Republic of Congo, Denis Sassou Nguesso. They witnessed the signing of a series of agreements dealing with economics, trade and finance.

Xi, who visited Russia, Tanzania and South Africa on his first foreign trip as president, is on the final leg of his journey. He was scheduled to deliver a speech to parliament in Brazzaville, Vice-Minister of Foreign Affairs Zhai Jun said.
Sassou Nguesso told reporters on Wednesday Xi's visit to his country will be historic. Bilateral cooperation is longstanding and the two nations will celebrate the 50th anniversary of their diplomatic ties next year, he said.
Qu Xing, president of the China Institute of International Studies, said the Republic of Congo is a relatively less-developed nation among African countries, and Xi's trip there marks far more than major progress for bilateral ties.
"The state visit also serves as an impetus for expanding the scope of the China-Africa relationship," Qu said.
Liu Guijin, former Chinese special representative on African affairs, said the two countries have an enduring friendship, and Sassou Nguesso is a good friend of the Chinese people. Sassou Nguesso has made 12 trips to China.
"President Xi's trip to the African nations sends a clear signal that China ensures the consistency of its policies toward Africa. China, as a developing country, still puts its ties with developing countries among the priorities of its foreign policies," Liu said.
Bilateral trade jumped to $5.08 billion in 2012 from $290 million in 2002, and China has become the Republic of Congo's largest trading partner.
China's exports to the country are mainly mechanical and electrical equipment, textiles and new technology products, while imports from the African nation are mainly timber and crude oil.
Li Anshan, director of the Center for African Studies at Peking University, said Xi's three-stop African tour has comprehensively covered three symbolic parts of the continent.
"Tanzania stands for East Africa, South Africa represents the southern part, while the Republic of Congo is a symbol of the coastal nations of West Africa," Li said.
Guan Jian, Chinese Ambassador to the Republic of Congo, said both countries have made remarkable achievements in cooperation on economy and trade, culture, education, healthcare and media, which "have not only facilitated the development of the Republic of Congo but also brought benefits to China".
"Under the framework of the Forum on China-Africa Cooperation, China will intensify cooperation to improve the livelihoods of the Congolese people and the country's capability in self-development," Ambassador Guan said.
China provided aid to the Republic of Congo after a weapons depot exploded in Brazzaville in March last year and the African nation donated $1 million to China after the devastating earthquake in Sichuan province in 2008.
To further bilateral cultural and educational exchanges, China has opened a Confucius Institute at Marien Ngouabi University in the Republic of Congo.
Beijing has been offering college scholarships to Congolese students every year since 1975.
Zhang Yunbi in Beijing and Xinhua contributed to this story.