Officials' integrity vital: Xi
A down-to-earth attitude, a good work ethic and an ability to stay away from empty gestures are some of the key characteristics officials require for promotion, top leader Xi Jinping said during a visit to Gansu province.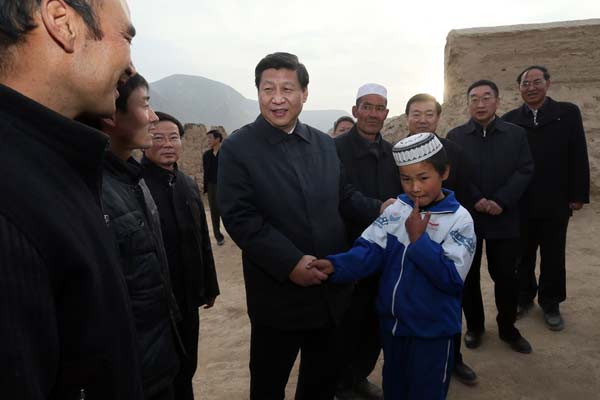 Top leader Xi Jinping meets with residents of Bulenggou village in Gansu province on Sunday.[Photo/Xinhua]
Officials who are out for pleasure and love formality must be told their behavior is unacceptable and reprimanded, he said.
Party chief Xi urged officials to spend more time with the public to address their problems and concerns, and work harder to develop poverty-stricken regions.
His remarks reflected the new leadership's determination to boost the image and working style of the Party and the government.
A good work ethic and personal integrity should be the key criteria in selecting, evaluating and promoting officials, Xi said during his four-day visit to the province, which started on Saturday.
The comments came against a backdrop of a number of recent scandals that have involved officials suspected of abusing their power or embezzling taxpayers' money.
Several officials across the country have been placed under investigation following allegations they owned property worth far more than they could afford on their official salaries.
Another case involved 10 officials in Chongqing who have been removed from their posts after a whistleblower revealed a sex scandal.
"China has entered a crucial period that means the government and local authorities have to narrow the gap between developed and underdeveloped regions," Wu Hui, a deputy professor of Party building at the Party School of the CPC Central Committee, said on Tuesday.
"This task demands officials at all levels have a good work ethic and maintain close ties with the general public.
"To achieve the goal of building a prosperous society, the government must make sure that residents in the remote, impoverished areas can enjoy a rapid increase in their income in the coming years, and the key lies in the work of local officials," Wu said. "That is why Xi emphasized work ethics and integrity in Gansu."
Bordering the Qinghai-Tibet Plateau, the Inner Mongolia Plateau and the Loess Plateau, Gansu is one of China's poorest provinces. The annual net per capita income of local farmers in 2012 stood at 4,507 yuan ($723).
"The fundamental problem behind incompetent officials is that there are loopholes in the selection and promotion mechanism," Wu said.
If there are those who think they can bribe their way up, then the public will lose confidence in the Party and the government, Wu added.
"Officials at the grassroots level must use wisdom to improve the standard of living of their communities and strengthen links with the people."
During his visit, Xi met with villagers and migrant workers and asked about their lives.
On Monday, Xi visited Xihu community in Lanzhou.
The community has created a mechanism that collects public opinion and suggestions, deals with problems people are most concerned with and releases the results to the public.
Xi praised them for establishing such a platform.
On Sunday afternoon, Xi went to a reconstruction site in Dongxiang autonomous county, where a landslide triggered subsidence in March 2011.
Chatting with migrant workers, he said a prosperous society could not be realized without the contribution of migrant workers.
Contact the writers at zhaolei@chinadaily.com.cn and chenxin1@chinadaily.com.cn
Xinhua contributed to this story.