Boys' standing falls as girls win favor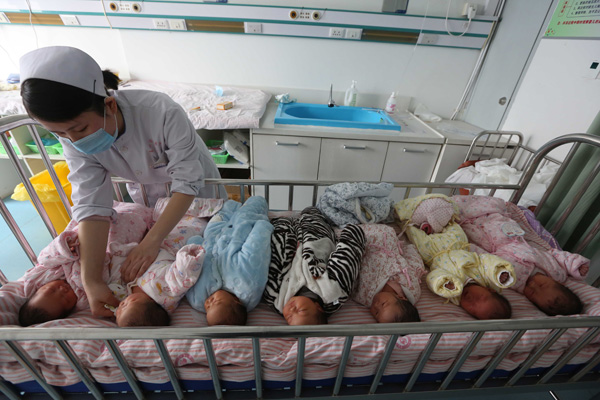 A nurse changes babies' clothing at a hospital in Xiangyang city, Hubei province, in February. Many of the newborns are their parents' second child. [Photo by Gong Bo / For China Daily]
A growing number of parents are eschewing tradition and attempting to ensure that their second child is female. Li Na and Shuang Rui report for China Features at Xinhua News Agency.
Liu Min lay on the bed quietly, looking at her newborn second son. Despite her joy, she felt a sense of loss - because she had failed to have a daughter.
Four years ago, the 31-year-old Beijing resident gave birth to her first son. To care for him, Liu resigned her job in the legal department of an insurance company, sacrificing an annual salary of 200,000 yuan ($29,500).
When the "one-child policy" was phased out last year, Liu and her husband decided to have another child. They had another boy. "Although having a second child made life more difficult and increased the pressure on us, we still want to have a daughter," she said.
While her "obsession" with having a daughter is "a challenge to my parents' 'patriarchal ideology'", she is more concerned about the pressures of modern life: "In Beijing, the average home can cost from 5 million to 10 million yuan. I worry about the cost of education, marriage and homes for my sons in the future."
Liu was born in Ding'an county, Hainan, China's southernmost province, in 1985. She was the family's fourth daughter. Her infant name was Zhao Di, meaning "bringing a younger brother", which she was given because "my parents especially wanted a son (next time around)".
When she was 2, her family had a fifth child - a boy. "When my brother was born, my family invited all our relatives and neighbors to a feast. We lit firecrackers all day," she recalled. "In the traditional view of people in my hometown, only boys can keep the family line alive."
Because Liu's parent had more children than was allowed under the family-planning policy, they were fined heavily. "We lived in straitened circumstances. Sometimes, my sisters and I only ate one bowl of porridge a day," she said.