Baby chimpanzee loves her 'mannies'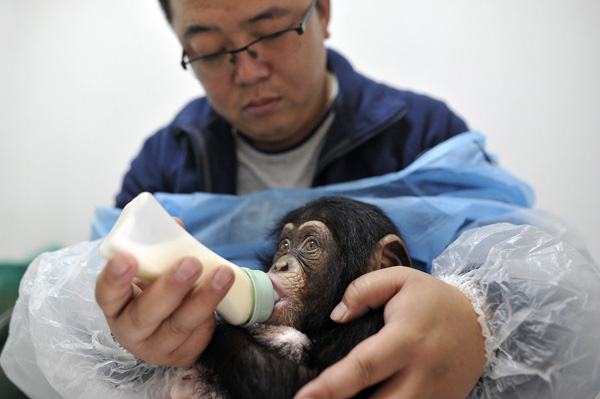 A 6-month-old female chimp is fed at Taiyuan Zoo in Shanxi province earlier this month. She was abandoned by her mother soon after she was born in May. [Photo by Wei Liang / China News Service]
Zhu Xiangbo carried the baby in his arms, touching her head gently with one hand, as he used the other to put a feeding bottle to her mouth. The little cutie looked up at him, pursing her lips slightly.
"She is fawning, requesting a kiss," Zhu said, also smiling.
Zhu's baby is a chimpanzee.
At Taiyuan Zoo in North China's Shanxi province, Zhu, 30, and his three male colleagues are playing mom to a female chimp deserted by her mother soon after she was born in May.
The chimp is yet to be named. "Local media have suggested soliciting a name from the public," Zhu said.
As the chimp turned 6-months-old on Wednesday, they were delighted to find she had reached 4 kilograms.
"It's four times the weight whens he was born," Zhu said.
It was the mother's first baby and after the delivery, the mother, Laoqi, refused to even touch the baby.
"We tried several times to have Laoqi accept the baby, but failed," so the keepers have become the chimp's "mannies", said Zhao Jing, 40, another keeper.
The mannies used information they found on the internet to help them raise the chimp.
The most important task is to feed her. They took turns to feed her every three hours at the beginning, including disinfecting milk bottles, mixing the milk powder, and feeding and burping her.
"We had to be cautious about the water temperature. She would be scalded if it was too hot, and suffer from diarrhea if it was too cold," Zhu said. "Sometimes it took more than 40 minutes to feed her, as she often did not cooperate."
"Although we are all fathers ourselves, we never took care of our own children so meticulously," he said. "She is now able to crawl and soon she will be able to walk."
In addition to sleeping for 12 hours per day, she spends most of her time playing alone. To keep her company, the mannies got her a toy bear. "She likes it very much and often kisses it," Zhu said.
Over the past months, the mannies have grown familiar with the chimp, figuring out her needs based on her different cries, chuckles and gestures. And she likes them. "Hearing our footsteps, she gets excited," he said.
The fertility rate for chimpanzees is not high in China and the mannies have not given up trying to form a bond between the chimp and her birth mother.
"We are trying to establish their eye contact first and then physical contact," Zhu said. "We hope to return her to her family when she can fit in."