A life for the price of a bowl of noodles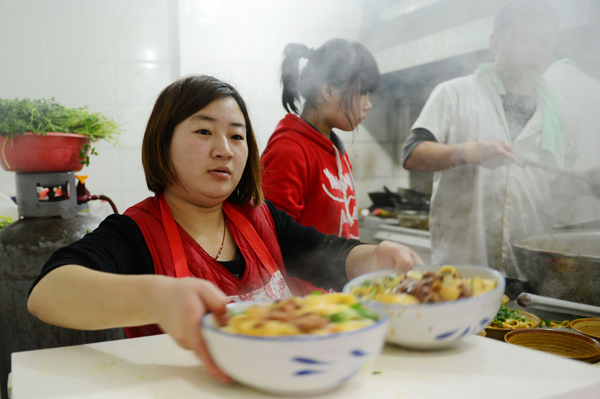 Jing Xiaomin serves customers crowding into her husband's noodle restaurant after the owner asked Internet users to dine there to help him pay medical bills. [XIANG MINGCHAO / CHINA DAILY]
The price of sliced noodles in Li Gang's restaurant is 10 yuan ($1.60) per bowl, but many customers would rather pay 100 yuan, or even more.
Li, 42, a resident in Zhengzhou, the capital of Central China's Henan province, was diagnosed early last month with osteosarcoma, a form of primary bone cancer.
The medical treatment costs of at least 200,000 yuan are way beyond his economic means, so Li resorted to the Internet.
In an online post, he asked netizens to have dinner at his small restaurant, and any donations would help pay his medical bills.
"I feel frustrated at getting the disease," he said in the post.
"My family doesn't have much money. Please come to eat in my restaurant so we can earn more money."
In the post, headlined "A father's humble request: Please help me", Li also said he has a 3-year-old daughter.
His post has been forwarded and commented on by thousands expressing their support.
Many have traveled from near and far to his restaurant to eat his sliced noodles.
Feng Yali, 45, who lives close to his restaurant, said she came to the restaurant every day to have lunch after seeing the online post.
"I am not rich either, but I really hope he can collect the money for his medical fees as soon as possible," she said.
Customers have crowded the small restaurant, and an extra six tables have had to be provided outside on the sidewalk.
Jing Xiaomin, Li's wife, said that he has been in the hospital for days, and she has been helping to run the restaurant with her aunt and many others who have volunteered to wash dishes, clear tables and serve the customers.
The wall of the restaurant has been filled with handwritten goodwill messages encouraging the family to be strong.
"If there is love, there is future," said one.
Guo Mei, Jing's aunt, said many people have insisted on giving 100 or even 500 yuan for a bowl of noodles.
"I have tried to give them change, but they refuse and leave the restaurant immediately," she said.
Miao Guojun, the general manager of a company based in Luoyang, Henan province, has asked his employee in Zhengzhou to take his donation of 1,000 yuan to the restaurant, Guo added.
Many others simply leave money at the counter without giving their names.
Some companies nearby have arranged for their employees to eat together at the restaurant at lunchtime, Guo said.
Li said by Thursday he had raised about 30,000 yuan, but it's still not enough for his surgery.
"I never expected so many people would come to eat in my restaurant. I thank all of these kindhearted people," he said.
"I must be strong so that all those who have helped me are not disappointed," he added.
Contact the writers at anbaijie@chinadaily.com.cn and xiangmingchao@chinadaily.com.cn