Paralyzed patient given free medical care
A paralyzed former mechanic who has been kept alive for seven years by his parents' unremitting care will be given a free operation, a new computerized ventilator and cash donations, after his story was widely covered by the media.
On Tuesday afternoon, Fu Xuepeng, a 30-year-old native of Taizhou, Zhejiang province, received a free operation at the Taizhou First People's Hospital.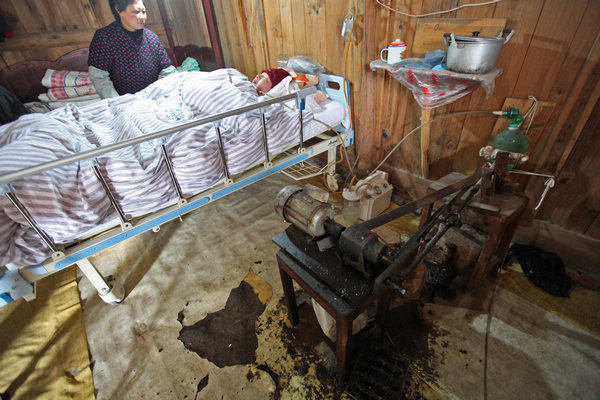 Fu Xuepeng with the self-made ventilator, as his mother Wang Lanqin looks on. Fu's parents have kept their son alive for more than five years using the ventilator. [Pan Kanjun / for China Daily]
Doctors at the hospital had his ventilator tube changed, which was implanted into Fu's body seven years ago when he was paralyzed in a car accident.
A new, modern ventilator, supplied by one of the country's largest medical equipment providers, will be installed at Fu's bedside this weekend.
Previously, Fu's parents had to take turns to hand press a respiratory bag to make sure their son continued to breathe.
By Tuesday night, 40,000 yuan had been donated to the farming family, who have a large amount of debt because of Fu's condition, according to the Hangzhou-based Qianjing Evening News, which first reported Fu's story.
The case has raised questions about the shortcomings of social medical insurance.
"We cannot rely on media exposure, public sympathy and at last government attention to solve every case," said Wang Enfeng, a deputy to Zhejiang People's Congress and a farmer.
Related story:
Parents work round the clock to keep son alive with ventilator