Major global content providers set to enter Chinese market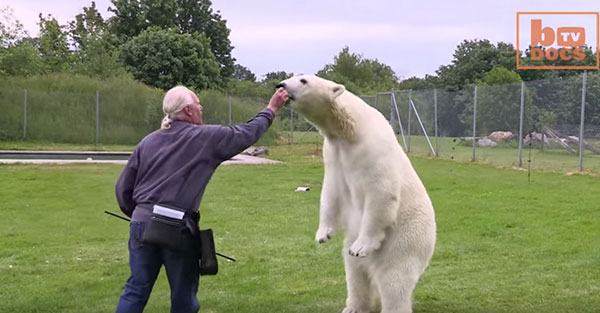 A screenshot from Barcroft's Youtube Channel.
If you're tired of Chinese internet sensation Papi Jiang making fun of Shanghainess, and want to watch more incredible real-life videos from abroad, such as a teen pulling a car with his shoulder or a man fighting a tiger, here comes the perfect time for you to feast your eyes: Four top-notch international content companies will enter the Chinese market for the first time with original quality programs, including short videos, and introduce global web celebrities to Chinese audience.
Barcroft from UK, Rumble from North America, ValleyArm from Australia, and Young Turks (TYT) from North America announced on Monday that they will cooperate with Easub, a Chinese media platform working on video subtitle and translation, to provide more foreign content to Chinese.
"We are quite confident about our company's development in Chinese market," said Victoria Catton, head of partnerships, Barcroft, to chinadaily.com.cn at an event in Beijing. The media company, established in 2003, is a popular British-based content producer that creates and distributes factual videos to mainstream audiences around the world.
"We have thousands of contributors from around the world. Our expertise and brand values will bring amazing content to a huge number of people in China," she said. Barcroft is currently the No.1 viewed channel on YouTube News vertical in the world. With millions of subscribers, it generates billions of views every year.
Just like Barcroft, TYT, the North America-based media company, is also bullish on China. "We're so excited and this is a major opportunity for us to attract more Chinese audience," Steven Oh, chief business officer, TYT, told chinadaily.com.cn at the Beijing function.
Watched by millions of young adults, TYT produces quality video content focusing on politics, talk shows, sports and TV & movie reviews.
"China and America are two great powers in the world. We can build a bridge to bring American news and culture to China, and allow people in China to get a real sense of what Americans are like," Steven Oh said. "And we have local people to produce local content for China and also for America. In this way, different countries in the world are kind of connected through our global work," he added.
As the nascent "online influencer" industry in China has been expanding rapidly over the last year, more and more content creators and investors are ready to jump into the market.
A report from Sina Weibo Data Center shows that in the past five months, 36,410 China's internet celebrities' Sina Weibo posts received 715.71 billion views, gaining 915 million re-posts, 406 million comments, and 1.65 billion likes.
The enthusiasm of Chinese fans has attracted the attention of these global content organizations and it's no wonder that they're all going to launch their business on Sina Weibo, as the first step in their strategy to tap the Chinese market.
"The way Sina Weibo operates has provided people more chances for interaction, education and entertainment. Now they want to move more to video, and this is perfect time to bring our videos to this platform," Victoria said.
"We will listen to Chinese audience and collect their feedback. And we will also create various topics to engage more people, to promote interactions with Chinese audience," she said.
"The consumers are willing to pay for idols and high-quality original content. In the long run, there will be a segregation among the short video content groups based to their capabilities. With different monetization patterns, it will finally form a stable pyramid structure," analysts said.
More content creators and investors are benefiting a lot from this original content-promoted business model.
According to CBN Data, a commercial data company affiliated with Alibaba, the "internet celebrities' economy" is set to be worth 58 billion yuan in 2016, more than China's cinema box office in 2015.
From the internet celebrities of Taobao to these e-commerce broadcasters, and live steaming, the supply chain derived from the short video content will be larger, but only those content producers and distributors who hold high quality IP, grasp fans and subscriptions, can grab the biggest share of the cake, analysts said.