Air show to display cutting-edge tech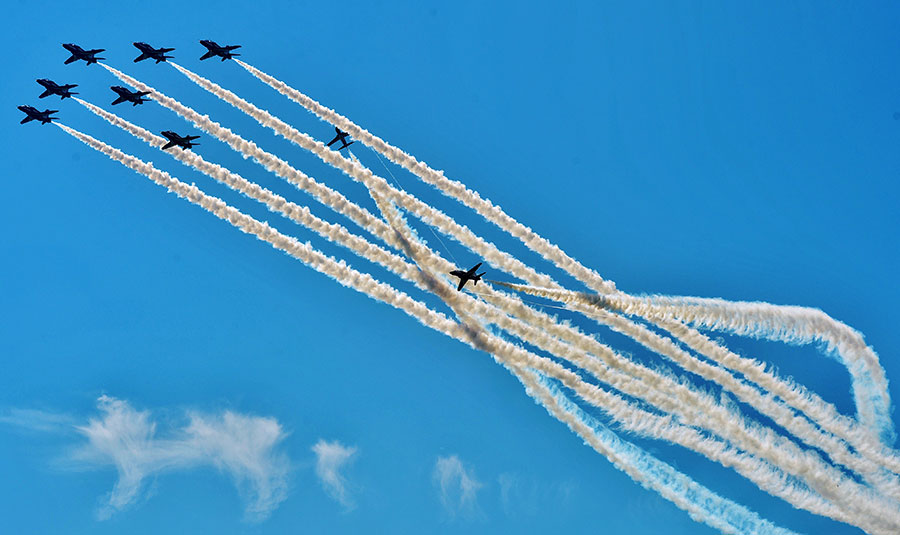 Jets of the Red Arrows, officially known as the Royal Air Force Aerobatic Team, fly in formation in Zhuhai, Guangdong province, on Oct 27, 2016. The British aerobatic team will perform at the 11th China International Aviation and Aerospace Exhibition, which will be held from Nov 1 to 6 in Zhuhai. [Photo by Tang Mingming/For China Daily]
Fans of military hardware will have a rare opportunity to see some of the country's top defense technology next week, as the 11th China International Aviation and Aerospace Exhibition gets underway in Zhuhai, Guangdong province.
The six-day event, commonly known as the Zhuhai Air Show, will start on Tuesday and is set to feature some of the best equipment that the People's Liberation Army and State-owned defense giants have to offer.
Products on show at the biennial event, which is the largest arms exhibition in China, will include the latest offerings in the space, aviation, electronics and land armament industries. Fighter jets, transport planes, drones, missiles, tanks and artillery guns are all set to be on display, according to Zhuhai Airshow Co.
Ahead of the show's opening, large numbers of military aircraft have been flown to Zhuhai, including the Y-20 strategic transport plane, KJ-500 early warning and control aircraft, FTC-2000 advanced trainer jet and Z-19E attack helicopter. All were developed and manufactured by the nation's leading aircraft producer, Aviation Industry Corp of China, and are in service with the PLA Air Force.
The Y-20, China's first domestically developed heavy-lift transport jet, was commissioned in July. It has a maximum payload of 66 metric tons and a maximum takeoff weight of more than 200 tons, according to military sources.
AVIC has previously said it wants to export the aircraft once it receives government approval.
The KJ-500 is the latest in the PLA's support aircraft fleet. Its cutting-edge fixed phased-array radar and two passive electronic intelligence arrays are capable of tracking up to 100 targets simultaneously at a distance of 470 kilometers, according to reports.
Meanwhile, the China Academy of Aerospace Aerodynamics, one of the nation's largest military drone developers, will showcase the latest model in its Cai Hong series of reconnaissance and combat drones at the air show. These drones have been sold to militaries in more than 10 countries around the world and can compete with any other drones of their kind, according to publicity officers.
Also on display will be the latest from the nation's largest missile manufacturer, China Aerospace Science and Industry Corp, including the first public appearance of the CM302 supersonic anti-ship missile, which is capable of hitting ground targets.
Military enthusiasts are also looking forward to seeing the highly-anticipated J-20 fifth-generation stealth fighter jet.
AVIC and the PLA Air Force have yet to confirm that the plane will be on display, but Chinese media have quoted industry analysts as reporting that it is highly likely it will make its debut at the air show.
Analysts said video clips circulating online show two J-20s completing aerobatic maneuvers in preparation for an aerial display at the event.