Almost half of new graduates eye second-tier cities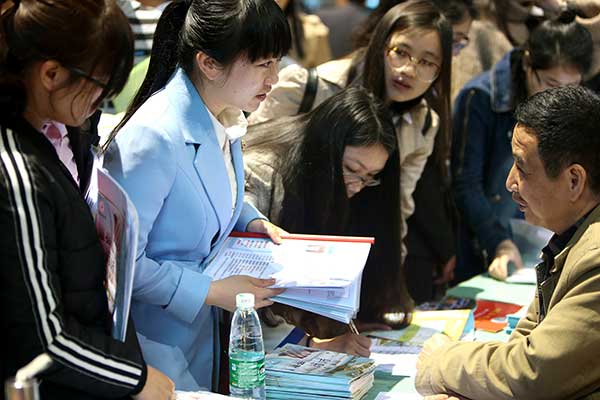 Graduates from normal universities in Hunan province interact with their potential employers at a job fair in Hengyang in March. More than 4,000 graduates participated in the event. [Peng Bin/For China Daily]
Second tier cities have become more attractive to fresh graduates, with unicorn companies the new favorite choice, among graduates born after 1995, according to a report on the attractiveness of the current job market released by bosszhipin, an app providing direct discussions between bosses and job seekers.
The report shows the percentage of graduates who look forward to finding a job in those cities rose to 44 percent, up eight percentage points from last year. Meanwhile, the number of graduates who will choose first-tier cities dropped to 36 percent from 51 percent in 2013.
More graduates are flocking to the "new first-tier cities", such as the eastern city of Hangzhou, where the G20 summit was held in early September.
It also reveals the attractiveness of traditional web portal or software companies is fading as companies dealing with big data, or in the cultural and entertainment industry, begin to win more young hearts. Unicorn companies, such as Ant Financial and Didi Chuxing, are the new appealing stars in recruitment.
The report also shows 14.8 percent of this year's graduates are willing to join some start-ups with fewer than 100 employees, up 5.9 percent from last year.
As for attractive positions in the Internet industry; technology, marketing and operation dwarfed others. E-commerce, internet finance and O2O businesses are the most desired segments, attracting 32.7 percent of total graduates.