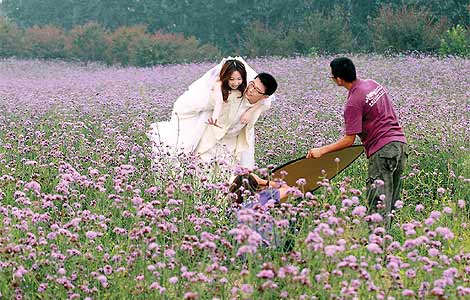 A package of wedding photos taken by a professional studio usually costs between 3,000 yuan ($476) and 20,000 yuan in Beijing. People can save at least 90 percent of the cost by paying someone online about 1,000 yuan to create 30 similar wedding pictures through computer manipulation. Photo editing software is a blessing for frugal people who want cheaper wedding photos. AQING / FOR CHINA DAILY
Some couples have wedding photos doctored by online experts
Computer-generated wedding photos are getting popular among young couples in China who consider it to be too expensive to have them taken in a studio.
Tang Xiaojun, a 25-year old man living in Nanjing, Jiangsu province, paid a netizen 1,000 yuan ($158.7) to create 30 wedding photos of him by computer last November.
"It is much cheaper than taking wedding photos in studios," Tang said.
A package of wedding photos taken in a studio usually costs between 3,000 and 20,000 yuan in Beijing, not including some additional expenditure such as cosmetics and extra dresses. The price varies between studios. In a large studio, the cheapest package is about 6,500 yuan.
Tang spent just 1,500 yuan on his wedding photos, including the hire of a wedding dress for his wife. His own attempts to take the pictures were too amateur and he lacked proper lights and a good backdrop so he advertised online for someone skilled at retouching images using computer software and received 18 replies.
"I'm satisfied with the cheap but fine result," he said.
Statistics from Zhubajie.com, a Witkey, or crowd-sourcing, website based in Chongqing, show that more than 8,000 jobs retouching wedding photos were posted on it, garnering a total turnover of 420,000 yuan from January 2011 to March.
"We launched a page specially for wedding photo jobs in January 2011 because of the fast-growing demand," said Zhou Chaohua, director of the marketing department at the website.
Older couples in their 60s have embraced the trend, turning photos from their younger days into wedding pictures.
Some younger couples also edit studio shots.
"Most of my customers send their wedding photos to me for further editing," said a photographer specializing in retouching surnamed Chen.
Using software, Ma Lili, a 27-year old housewife living in Zhengzhou, Henan province, saved 500 yuan editing 30 wedding photos.
Ma said she spent 4,500 yuan on the pictures taken in a studio last September but the package only included 20 retouched photos.
"I wanted to have 30 more photos retouched but the studio wanted to charge an extra 600 yuan," Ma said. After finding someone online she got the job done for 100 yuan.
Not everyone wants computer-generated wedding photos.
Xie Min, a 23-year old woman working in Xian, Shaanxi province, who was planning her wedding, said she had considered going down that route to save money but her fiance refused. The studio photos they eventually got cost them both a month's salary.
"The quality of computer-generated photos is too low and people can see the backgrounds are fake," Xie said. "It is my only wedding so I did not care about the money."
It's not just the quality but the actual experience of having wedding photos taken that young couples cherish.
A 26-year old office worker living in Beijing named Zhang Nan said she was so excited the day before her wedding photos were taken in early March.
"It is a tiring but amazing experience," Zhang said. "I was like a superstar that day."
Zhang and her fiance spent a whole day in the studio and a country park with a team comprising photographer, lighting specialist and image designer.
Zhang relied on the professional team to capture her beauty and charm. She paid 12,000 yuan, including the hire of a wedding dress.
However, the job need not be so expensive. Group purchasing has made inroads into the sector since the concept emerged two years ago.
As many as 577 group-purchase advertisements for wedding photos costing from 100 to 10,000 yuan were revealed on April 12 on a website in Beijing. The cheapest one offered a 90 percent discount.
To save money, some couples opt for small studios.
"Couples can choose smaller studios, which are usually managed by photographers rather than businessmen," said Jia Yongzhi, who takes pictures at a wedding photo studio in Zhejiang province.
Jia said unlike large wedding photo studios, photographers' studios do not charge for extra expenditure and all costs are covered in the package.
The price in small studios can be 50 percent lower than larger studios, Jia said.
wangwen@chinadaily.com.cn