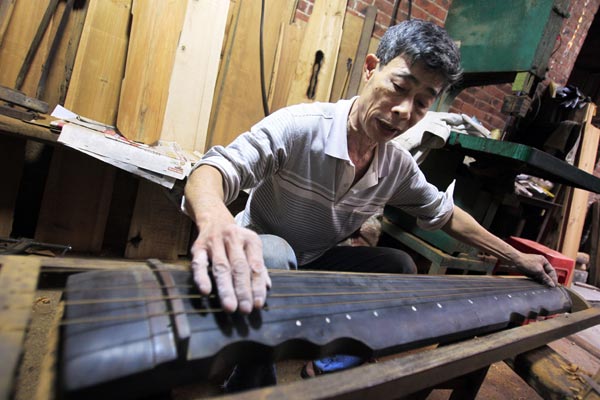 Huang Fuzhao, a master maker of guqin, the Chinese seven-stringed zither, tunes one of his instruments at his workshop in Guangzhou, Guangdong province. ZOU ZHONGPIN / CHINA DAILY
Few would think of Huang Fuzhao as a master maker of guqin, a Chinese seven-stringed zither known as the preferred instrument of sages and literati since ancient times.
In his T-shirt, stained jeans and slippers, with black paint under his nails, the 60-year-old carpenter from Zhongsan village in Guangzhou received only an elementary school education. But the guqin he makes are among the most sought after by musicians and collectors from in and outside the country.
Not having any music training, he knew nothing about the musical instrument the first time he saw one - a broken piece a collector had brought to him to repair.
Huang, who was then running a plant making ancient-style furniture, fixed it and received HK$5,000 ($645) for it, an eye-widening sum in the early 1990s.
Then more worn guqin started to come in from overseas for Huang to repair, thanks to the collector's word of mouth.
"I fixed them all, sometimes with the help of the pictures they provided. I had good craftsmanship, but I had no idea of sound quality," said Huang, smoking cigarettes, sitting cross-legged and barefooted on his valuable rosewood chair.
He fixed scores of guqin in the following three years before he bought a broken one for more than 100 yuan($15.80), repaired it and sold it to an overseas collector for almost 500 times higher.
He then asked the collector: "If I made one, would you buy it?"
He made one, and though it produced a very disappointing sound, the collector bought it for decoration.
Undeterred, Huang traveled around the country visiting guqin makers, reading related books and scrutinizing guqin. He even traveled to Hong Kong a few times to hear and memorize the sound of an ancient guqin.
"The hardest part of the work is that I know no music and was poorly educated. The seven strings can produce more than 100 notes," Huang said.
But he managed to memorize all the notes, "even in dreams", as he put it.
The secrets of making the guqin's body seemed much easier to find for the experienced carpenter. Apart from the good quality of wood from fir or paulownia, Huang said applying calcified deer antler powder as a coating also adds to the sound and helps protect a guqin from impact, fire and water.
The alignment of the wood fibers also plays a key role in sound quality, Huang said. For example, the side of the wood closer to the root should be toward the "head" of a guqin.
"This way, the fiber of the wood allows the best transmission of the sound," he said.
To achieve a deep sound that brings one back to ancient times, he added, wood used in buildings for hundreds of years is the key.
Huang's guqin, popular among musicians and collectors in Guangdong, Hong Kong and Macao, produces an excellent mellow sound.
"That is not easy to achieve, given his educational background and a lack of advanced tools," said Xie Daoxiu, president of the Guangdong Guqin Research Institute.
"My father can't play the guqin, but I can," said his 31-year-old son, Huang Yongliang, who works at the township government.
"My music background should help us reach a higher level," said the son.
At present, he makes about a dozen guqin a year, which sell for 30,000 to 50,000 yuan apiece, ranking him among the country's top guqin makers.
"It is this recognition, not money, that makes me happiest," he said.
liwenfang@chinadaily.com.cn
 )