Bone marrow transplant for adopted girl
Updated: 2011-08-19 07:58
By Li Wenfang (China Daily)
| | | | | | | | | | | |
| --- | --- | --- | --- | --- | --- | --- | --- | --- | --- | --- |
|   | | Comments() | | Print | | Mail | | Large Medium  Small | 分享按钮 | 0 |
Lu Lu in stable condition after operation lasting about four hours
GUANGZHOU - "I miss you so much," 10-year-old Lu Lu said to her adoptive mother by phone from her bed in a clean room before her bone marrow transplant on Thursday.
"From today your life should be different. With the stem cells transplanted, you will become a healthy child," replied her adoptive mother.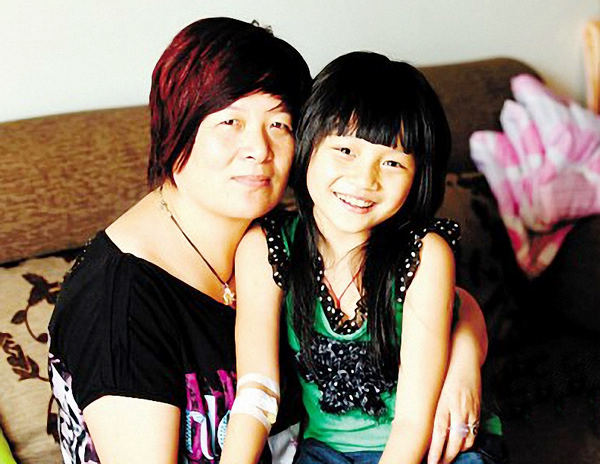 Luo Xuehua and her adopted daughter Lu Lu, who suffers from a rare blood disease, visit doctors in Guangzhou, Guangdong province in July. [File Photo from Yangcheng Evening News]
The operation lasted nearly four hours and ended around 9 pm. Lu Lu was said to be in a stable condition. The coming 10 to 20 days will be the most risky period and Lu Lu will remain in the clean room for 28 days.
The case of the girl, nicknamed Lu Lu, who suffers from a rare blood disease, has received a lot of attention because of the hardship her adoptive mother has gone through since she found Lu Lu abandoned when she was about 40 days old.
Luo Xuehua, 43, from Taizhou of East China's Zhejiang province, aborted her own baby, and sold her restaurant and apartment, to pay for the treatment of Lu Lu, after she was diagnosed with sideroblastic anemia at the age of three months.
Luo has spent more than 1.5 million yuan ($234,815) since she found Lu Lu. In recent years the girl has needed two blood transfusions a month.
"I am a mother. If I do not persist, how will my child survive?" Luo said.
I used to cry every day for Lu Lu, but it was not good because the child and I should be strong."
Luo found Lu Lu's biological parents and sister, the now 13-year-old Zhang Pan, in Jiangxi province in 2004, and tests showed a bone marrow match between Lu Lu and her sister.
However, Luo was reluctant to proceed with transplant until the doctor treating Lu Lu at Nanfang Hospital in Guangzhou, the capital of South China's Guangdong province, told Luo in May that Lu Lu should have the transplant before it was too late.
Besides, Luo decided to go ahead with the transplant because Lu Lu had shown signs of rejection after years of blood transfusions.
"I was very worried before but I am not worried now. Lu Lu is in good spirits. There is a high success rate at this hospital. All I hope is a success for Lu Lu's treatment," Luo said.
The success rate at Nanfang Hospital for such transplants is 80 percent although the best age for the operation is three to four years old, said Li Chunfu, chief of the pediatrics department.
The risks include a transplant failure, rejection of the donor marrow or other complications, said Wu Xuedong, Li's colleague.
Lu Lu's sister, who spent five hours donating the marrow, said she was feeling fine but concerned about the risks for Lu Lu.
Lu Lu's biological father, a migrant worker, said: "I hope Lu Lu will get well. So many kind people are helping her."
Lu Lu has received 300,000 yuan from a company in Taizhou and other financial help from the Taizhou business chamber in Guangzhou. Her family has borrowed about 300,000 yuan for her treatment, said Luo, who now has little time to handle her clothes store in Taizhou.