Records to be kept for workers in risky jobs
Updated: 2011-08-19 07:43
By Chen Xin and Yan Jie (China Daily)
| | | | | | | | | | | |
| --- | --- | --- | --- | --- | --- | --- | --- | --- | --- | --- |
|   | | Comments() | | Print | | Mail | | Large Medium  Small | 分享按钮 | 0 |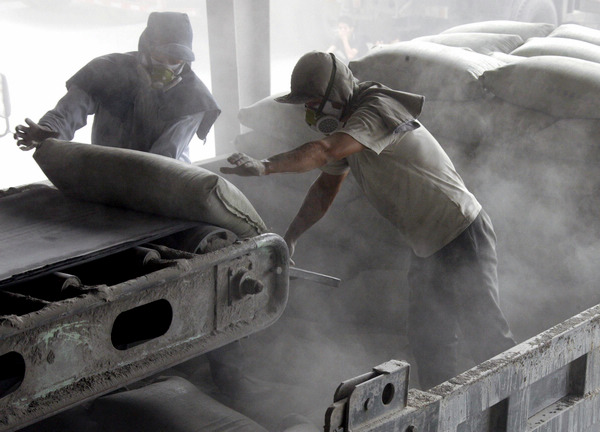 Two migrant workers carry bags of cement from the production line in a dusty cement plant in Huaibei city, East China's Anhui province, on Wednesday. [Woo He / For China Daily]
Documents will be used to resolve disputes over injuries and illnesses
BEIJING - Chinese employers are being required to keep health records for employees who are exposed to health hazards at their workplaces, according to a directive issued by the State Administration of Work Safety.
The health records will contain the results of physical examinations workers will undergo at the beginning of a job, during the terms of their contracts and after those contracts expire. They will play an important role in settling disputes pertaining to occupational dangers.
The directive, which was released on August 5 and was made public on Wednesday, also called on work safety authorities to investigate all serious accidents that are caused by workplace dangers.
By 2015, the administration expects that more than 80 percent of Chinese employers will give work safety authorities reports about the dangers employees face at their jobs. By the same year, at least 60 percent of workers are supposed to be given access to physical examinations if their work is dangerous.
In addition, at least 85 percent of workers who are exposed to radiation on their jobs are to be undergoing radiation testing by 2015.
Local governments will shut down manufacturers of wood furniture, asbestos products and quartz sand, as well as asbestos mines, if those operations fail to meet the health requirements, according to the directive.
Huang Leping, head of the non-governmental organization Beijing Yilian Legal Aid and Study Center of Labor, said it's good to set goals for the next few years but more specific plans will be needed if the ultimate object is to curtail the occurrence of occupational injuries and illnesses.
"It's easy to set targets, but we need concrete measures," he said.
China faces great difficulties in its attempts to ensure the safety of workers.
In 2010, 27,240 Chinese workers were diagnosed with occupational injuries and illnesses, an increase of 50.2 percent compared with 2009, according to figures released by the Ministry of Health. Statistics also show that such conditions have become more common in recent years. In 2009, about 200 million Chinese people toiled in workplaces that posed dangers to their health.
Huang said one reason employees work in dangerous conditions is that many businesses do not realize they are responsible for protecting workers' rights.
"Only when both the government and employers feel pressure, will they take effective action to fulfill their responsibility to protect workers' rights," he said.
Chang Kai, a labor professor at Renmin University of China, said a unified and efficient government body should be charged with leading the campaign to prevent occupational injuries and illnesses, to diagnose those conditions and to compensate sick or hurt workers. In China, work safety authorities now oversee workplace conditions, health departments are responsible for the diagnosis of illnesses and the country's labor watchdog deals with workman's compensation.
Many workers who get sick or are injured do not know which government agency they should turn to. And those departments, when their help is sought out, sometimes shirk their responsibilities, Chang said.
He said labor unions should also be given a stronger voice.
The National People's Congress began reviewing a draft amendment of the law on occupational diseases in June, making it easier for people suffering from occupational injuries and illnesses to obtain diagnoses and compensation.
The draft will also simplify the arbitration procedures used in labor disputes.