The right to speak one's mind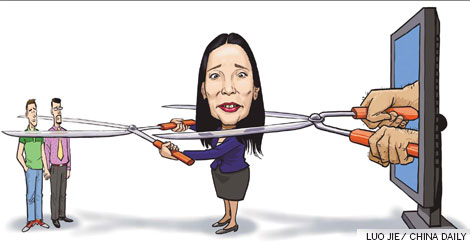 A celebrity couple's latest salvo against gays should be countered with reasoning and rational rebuttals, and not threatened with reprisals.
Before the power couple of Sun Haiying and Lu Liping became the de facto spokespersons for homophobia in China, they were representatives of a style of performance art that is rooted in the old traditions yet connected with modern audiences. Lu Liping was thrust into the eye of the latest storm when her gay-bashing slur on her micro blog was reposted and rebuked by famed Taiwan television host Kevin Tsai, who is openly gay. Before that, she was perceived by the public as the proverbial "white face", the appeaser who pulled her husband away from trouble-causing situations. Yes, Sun is a bigot, the public seemed to agree, but Lu is not and it is a pity she married a person like him.
Well, I happened to find out a week before the rest when I interviewed the pair on June 18 at the Shanghai International Film Festival. Ever since I wrote a column in August 2007 lambasting Sun's first gesture of homophobic grandstanding, I had been curious to find out what was behind his "moral crusade" other than religious conviction.

Today's Top News
Editor's picks
Most Viewed