Hands-on experience helps to form goals
For 33 years, Geng Jiasheng has been working on one thing - to be a turner.
Geng, 54, joined Kunming Heavy Machinery Plant - now known as Yunnan Metallurgical Kunming Heavy Machinery - as an apprentice in 1984.
The first thing he learned was to sharpen a knife.
His master, Huang Tingfu, nicknamed the "turner king" in the factory, taught him how to do it in front of a grinder and then asked him to follow along. A turner is a person who operates a lathe.
Geng carefully studied his master's knife, considering it a piece of art, and he spent a whole week practicing to sharpen his first knife, which now lies in the showcase of his "master studio".
Geng's father and two brothers devoted their careers to the company.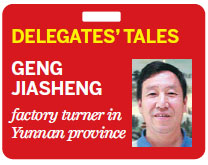 "When I feel bored, I'd think of my father and my master's words - to be a turner is to play well with one knife," Geng said.
Years later, Geng understands that the meaning of "one knife" is to make the knife according to different machining parameters and materials or on different occasions and demands from clients.
"Then I realize, a good turner needs to have his own idea and think flexibly. You can't invariably deal with your work."
Preparation is the key for Geng to remain efficient. "Every time I receive the drawings, I'll check the complexity level of the parts first, then choose the proper tools and measuring instruments," Geng said. "The more I prepare, the more relaxed I work."
Since 2012, Geng has taught more than 30 apprentices, transforming dry theoretical knowledge into understandable phrases with hands-on experience.
As a delegate of the 19th National Congress of the Communist Party of China, Geng hopes to call on the government to issue policies that can help State-owned enterprises return to their former glory, "such as Kunming Heavy Machinery".

Editor's picks