Technician makes useful innovation a lifetime pursuit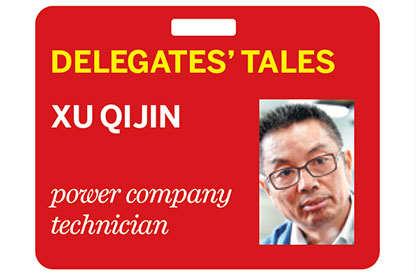 Xu Qijin spends his working days checking and repairing high-voltage power components or in his workshop inventing new devices.
Xu, 54 and a Party member, has been working in the local power company in Suzhou, Anhui province, for 35 years. He has won seven patents and five more are pending.
The devices invented by Xu have become popular within the State Grid.
"Some can better safeguard technicians' security and others improve efficiency," Xu said.
"Every time he has invented a new device that is for use on the high-voltage power lines, Xu is always the first to try it," said Wu Wei, Xu's colleague and also his apprentice.
Xu has been elected one of the two representatives from the city to the 19th National Congress of the Communist Party of China, which starts on Wednesday.
He has only a high school education, but many consider him the best technician in the company.
Xu grew up in the countryside, and came in contact with electric light for the first time when he started high school in Suzhou.
"It really seemed like magic because I had never seen such a thing that can give out light without burning kerosene, which was commonly used for lamps," he said.
After graduation from high school in 1980, Xu was sent to rural areas. But he returned the following year after a notice was issued-13 government departments were recruiting young employees.
"At that time, China was still a planned economy and didn't have enough grains, goods or materials," Xu said. The best jobs at the time were with the local bureaus that administered supplies of what was most needed.
"The electrical power department was not popular then," he said. He decided to try for a position at the power bureau, which is now the local power supplier for the State Grid.
"I thought the job would be to install electrical wires in residences and collect fees from the users," said Xu. After about 20 days of training, Xu began to realize that the magic of electricity didn't happen so easily.
"We were often sent to the countryside to check and repair high-voltage power transmission lines and towers," said Xu, who is in a team that is responsible for maintenance and repair of power lines and components such as transformers. Xu belongs to one of the team's three groups, which is called a "hot" line working group.
"It means we would mostly work on lines and towers without interrupting the power supply," Xu said.
When he joined, the whole team had 42 technicians and were responsible for Suzhou's 295.8 kilometers of 110-kilovolt lines, the highest voltage lines at the time, according to historical records.
Now, the city has 2,075 km of high-voltage transmission lines that carry voltages above 110 kV, while the team has only 39 members.
"Electricity is now key to not only citizens' daily lives, but also development of the local economy," Xu said. "People complain a lot about power interruptions but they know little about how hard we have been trying to prevent failures."
Xu said he loves the job so much that he is always thinking about how to improve his work.
In addition to his inventions, he often proposes solutions to major technical problems.
When a new highway was finished in 2011 connecting Hefei, capital of Anhui province, and Xuzhou in Jiangsu province, the level of the ground at a spot in Suzhou was raised significantly. There no longer was a safe distance between the road surface and power lines.
When the company decided on the usual solution of building a new tower and new lines, Xu suggested something that hadn't been tried before-rearranging the lines on the old towers.
It worked and helped save more than 400,000 yuan ($60,700) in costs while shortening the project time from more than a month to just four days.
In 2008, some rural residents added a floor to their houses, which were under a high-voltage line.
"A resident in one of the houses was injured by an electric shock and another house caught fire," Xu said. Both homeowners refused to demolish their houses.
While there are six lines between towers, the lowest four carry electricity and the top two don't. So Xu moved the lines around so that the families would not be in danger anymore.