Domestically-produced jetliner with BeiDou navigation system completes test flight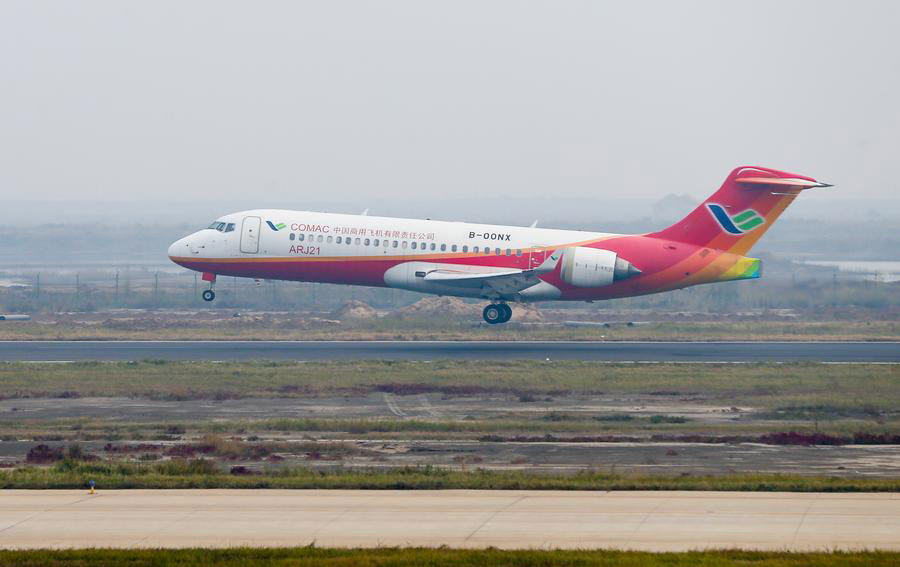 An ARJ21-700 plane lands after a test flight at an airport in Dongying, East China's Shandong province, Oct 14, 2017. The Chinese-developed regional jetliner, which has the BeiDou navigation system installed, has successfully completed a test flight, the Commercial Aircraft Corporation of China (COMAC) said Saturday. [Photo/Xinhua]
A Chinese-developed regional jetliner, which has the BeiDou navigation system installed, has successfully completed a test flight, the Commercial Aircraft Corporation of China (COMAC) said Saturday. The test flight was carried out from an airport in east China's Shandong Province on Saturday morning.
It was the first time a domestically-produced regional jet has been equipped with the BeiDou navigation system. The flight tested the performance of the onboard navigation information receiver, the ground-based signal enhancement system, and the short-message function of the BeiDou system.
The results showed the performance of the navigation systems developed by China is on par with similar systems produced abroad, and even reaches internationally advanced level in transient and quick positioning index, COMAC sources said.
The BeiDou navigation system has seen increasing numbers of applications linked to everyday life, from shared bicycles to bank cards and unmanned patrol vehicles.