Grassroots delegate: How a woman helped community
Editor's note: As the 19th National Congress of the Communist Party of China nears, a total of 2,287 delegates to the event have been elected. They come from all walks of life, with a large proportion having made a special contribution in their jobs. This is the first in a series of reports focusing on the delegates' stories.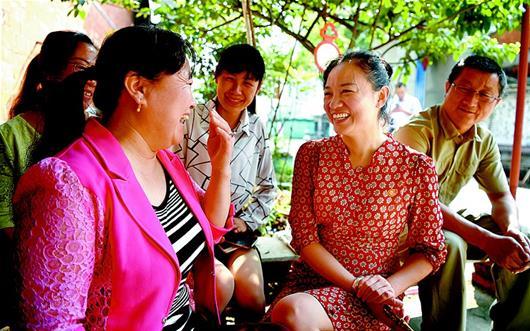 Xu Xu (2nd R) talks with residents. [Photo/Hubei Daily]
Balicha residential community of Suizhou in China's Central Hubei province was a run-down area since its establishment in 2004. The situation had not been improved until Xu Xu, the community's Party chief, began working on the community's renovation.
Xu Xu, a delegate to the 19th National Congress of the Communist Party, began to work as Balicha community's Party chief in 2009. At that time, the community in the rural-urban fringe zone was dirty and mismanaged. Xu was resolute to make changes.
There was no permanent area for the community office. Xu insisted that to strengthen the community and serve it better, constructing an office building was the first thing to do.
Some people doubted whether a woman like Xu had the ability to carry out such a difficult work. Xu said achieving a goal was only possible if you had confidence and diligence.
From doing paperwork to selecting the site, Xu overcame various obstacles and difficulties. In July 2010, the construction of the office finally started and the completion of the building was praised by many residents. Yu Jinlan, a senior resident, said that thanks to the construction of the community office, they found a place to participate in various recreational and sports activities.
What Xu was determined to do was far more than building a community office. In 2013, she notched another triumph for the renovation of Mianhua community.
Balicha's Mianhua community was considered Pandora's box by local people as its problems were considered insurmountable. There were lots of illegal constructions and mountain of garbage. The drainage was blocked and the environment was filthy. Some residents did not comply with the community rules and many others even considered moving out.
Xu said she would gain residents' support if what she planed would bring benefit to them.
Xu Guanghuan, a resident in Mianhua community, remembered that Xu Xu hosted meetings for dozens of times and met residents in person door by door.
Now, Mianhua community is a clean and organized residential area. The residents who wanted to move away changed their idea.
Through those remolding projects, Xu has won respect from the residents. But it is her sincerity to serve and spirit to sacrifice that secured her their affection.
There are more than 1,000 residents unemployed in Balicha community and some of them are leading hard and unstable lives. Wang Daying, an 80-year-old resident, often had quarrels with her husband which caused domestic troubles. Xu visited Wang many times and had heart-to-heart talks with her. With passage of time, Wang's personality improved and the conflicts with her husband mitigated.
Xu has gradually become a close friend with Wang who said Xu is not only the Party chief but also her daughter-like friend.
The daughter-like Party chief is now on everyone's mind and what Xu has done is indeed worthy of remembering.
In 2011, the family of Du Shuangqin, a resident suffering from cancer, was hit with misfortune as Du's husband died in an accident. Du's son was seriously physical challenged and the family had fallen into poverty. Xu Xu was concerned about Du's family and donated money to Du. Afterwards, she also organized the community to donate and many residents, moved by Xu, reached out to help.
A resident called Cheng Lesheng said that though the amount was not big, but the kindness and compassion of Xu warmed up people to battle hardship. "She is like a family member," Cheng said.
At present, Balicha residential community, thanks to the leadership of Xu Xu, provides good living environment to all the residents. In return, the residents are voluntarily making contribution to the community building.

Editor's picks